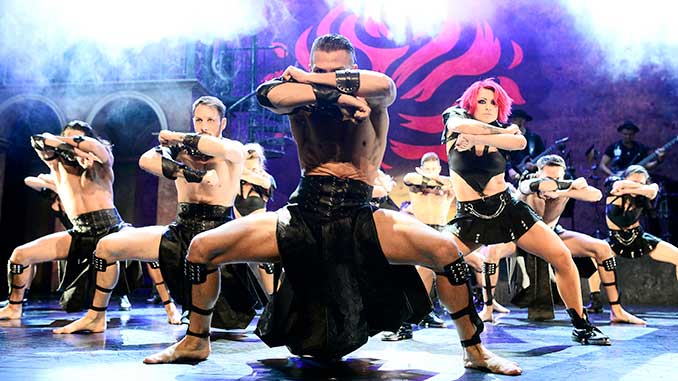 World-renowned Australian ballroom dance company Burn the Floor has for the very first time collaborated with the hugely talented First Nations star Mitch Tambo to create a brand-new dance production that will tour the east coast of Australia from 21 July to 13 August 2023.
This ground-breaking and inspirational journey embraces a mix of Indigenous culture and music with favourite ballroom and Latin styles, from waltz, foxtrot, samba, rumba, tango, to swing and jive, mixed with Mitch Tambo's unique sound, accompanied by his vocalist wife and partner Lea Firth who will be joined by First Nations' outstanding, contemporary dancer, Albert David.
Mitch will perform his own musical compositions, joined by the energy and passion of 20 dancers, vocalists, and musicians.  They will be backed by a soundtrack of Australian rock classics including Midnight Oil Power and the Passion, INXS Never Tear Me Apart, ACDC Highway to Hell, the Bee Gees Staying Alive, Cold Chisel Khe Shan and Archie Roach anthems, plus You're the Voice will be sung by Mitch in the Gamilaraay language and Walanbaa along with other brilliant songs he has written.
Australian resident dancers in the 2023 tour cast include Jorja Freeman, Gustavo Viglio, Jemma Armstrong, Lily Cornish, Julian Caillon, Robbie Kmetoni. Jessica Raffa, an original BTF dancer, will re-join us, with new dancers Lyu Masuda, Craig Monley and Sriani Monley being introduced.
Burn the Floor has enjoyed a seven-month season on Broadway, two seasons on the West End and tours through thirty countries and over 150 cities. It is a powerhouse of the cruise-ship industry, performing over 6,000 shows for Norwegian Cruise Line since 2012.
In 2023, Burn the Floor will begin its 11th World tour, across Japan, Korea and beyond, finishing at The Royal Albert Hall, London in July 2024.
---
Burn the Floor premieres at The Palms at Crown, Melbourne (21 – 30 July), before touring the east coast of Australia from 1 – 13 August playing Maryborough, Toowoomba, Brisbane, Port Macquarie, Newcastle, Canberra, Wyong, Sydney, Penrith and Chatswood. For more information, visit: www.burnthefloor.com for details.
Image: Burn the Floor (supplied)