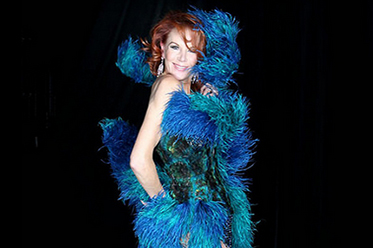 Sydney Gay and Lesbian Mardi Gras have announce that legendary performer Trevor Ashley and Australia's first lady of cabaret Rhonda Burchmore will be the VIP hosts of the premium Parade viewing area, The Flinders Seats.
Offering the best view of every sequin, every performer and every float, The Flinders Seats also offers the best in entertainment, with Burchmore and Ashley coming on board to make sure revellers at the Flinders Seats get the best there is to offer for their Mardi Gras experience.
As Mardi Gras royalty, hosts Burchmore and Ashley will offer the complete VIP experience, mingling with punters, and creating an exciting atmosphere, from the comfort of VIP grandstand seating for Australia's biggest street party.
Giving you the ability to enjoy the parade on your own terms, the seats give the entire Mardi Gras experience. Video screens capture every detail that may be missed, as well as the tongue in cheek commentary which the parade is known for.
With complete access to amazing bars, food and bathrooms so you can view everything in premium comfort, The Flinders Seats really are the best seats in the house.
With tickets from $143, Mardi Gras has made it easy for you to avoid the crowds and the pushing, the most affordable option to fully experience the parade. The Grandstand has been moved to a more centralized and accessible location on Flinders Street, giving a completely unobstructed view of the magic, and putting you in prime position for the finale of the parade.
With over 25 years in the entertainment business, Rhonda Burchmore is an Australian cultural icon, recognized for her numerous talents as a performer. Having recently been awarded an Order of Australia medal, Burchmore is an all-round entertainer, a talented singer and acclaimed actress.
Trevor Ashley has been described as "the busiest man in Australian show business", working as a writer, director an, singer and stage performer, performing both in Australia and internationally.
For more information, visit: www.mardigras.org.au for details.
Image: Rhonda Burchmore