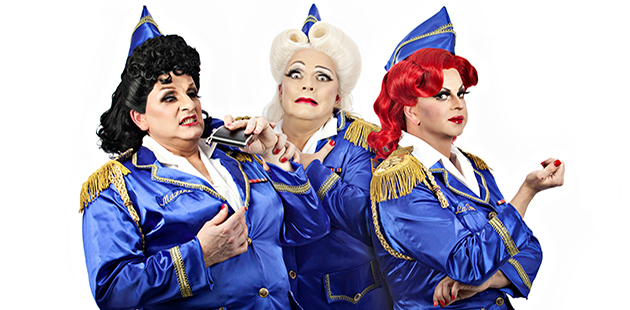 Before The Spice Girls, before The Supremes… there was The Andrews Sisters. During the late 1930's and 1940's the original girl group were a global sensation, their records sold in the millions and their music still resonates to this day.
Starring the sensational Michael Dalton (Dolly Diamond, A Different Way Home) the fabulous Jon Jackson (The Great Big Opera Company), and the adorable Andrew Dessmann (North Side Story, Talk Show), the Bugle Boys frock up for this comedy-cabaret-omage to dance their shapely legs off and sing (not lip synch) some of Patty, Maxene and LaVerne's most beloved songs including Rum And Coca Cola, Pistol Packin' Mama, Boogie Woogie Bugle Boy and more.
Patty (Michael Dalton) is the undisputed leader of the group. An energetic, enthusiastic unnatural blonde, she holds the show together and delivers the majority of the dialogue, LaVerne (Andrew Dessmann) is redhead, an airhead, she's impeccably groomed and a bit of a slut!
Maxene (Jon Jackson) is brunette, she's a bit bored with the whole thing, is acerbic, morbidly cynical and her makeup could do with some attention. She's also a dead set lush and becomes increasingly inebriated as the show progresses. Between numbers, the three bitch and squabble and deliver a hilarious tale of their life and career.
"I'm very excited to join the cast of Bugle Boys," says Andrew Dessmann. "Three blokes in frocks singing Andrews Sisters songs and a brilliant script… what's not to laugh at? Beards off, tits out, it's Showtime!"
This new Australian production is conceived and written by John Livings (At Last – The Etta James Story and Let's Get It On – The Life And Music Of Marvin Gaye) and will have it's debut season at Chapel Off Chapel.
John was born in the UK but for the past twenty-something years has called Australia home. Having trod the well-worn path of the writer John has notched up an eclectic array of day jobs from the advertising industry to kitchen hand, landscape gardener, laborer, yacht delivery crew plus umpteen other misadventures best left unsaid.
An avid traveller John lived and worked in the Middle East for a couple of years and spent a further four years working at sea as a cruise ship entertainer. Throughout all this he moonlights as a stand-up comedian and has performed in the UK, the USA and all the major (and not so major) comedy venues across Australia.
His critically acclaimed debut novel, Pommy Bastard was unleashed in 2007 and, giving JK Rowling a scare has gone on to sell a whopping nine-hundred copies in just eight years (apologies if you received one as a gift!). On a brighter note, John's theatre credits include writing the smash-hit shows At Last – The Etta James Story and Let's Get It On – The Life And Music Of Marvin Gaye.  
"I am immensely proud of Bugle Boys and the amazing cast that we have been blessed with," said Livings. "If you only see one show this year…then you really should get out more."
Bugle Boys – A Salute to The Andrews Sisters
Chapel Off Chapel, 12 Little Chapel Street, Prahran
Season: 27 October – 1 November 2015
Bookings: (03) 03 8290 7000 or online at: www.chapeloffchapel.com.au
For more information, and to keep up with the antics of Patty, LaVerne and Maxene, visit: www.facebook.com for details.
Image: Bugle Boys (supplied)