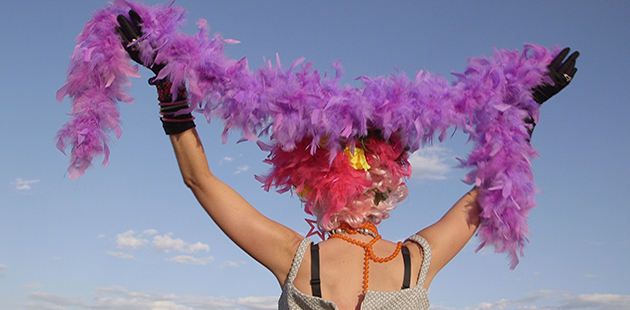 The Adventures of Priscilla, Queen of the Desert – the movie that put a cock in a frock on a rock is turning 21, and to celebrate she's throwing the biggest bash the Far West has ever seen – the inaugural Broken Heel Festival, this coming September.
Twinks, bears, fauxmosexuals and thrill seekers can enjoy a range of punderful Broken Heel festivities including the Meat Draw, a Swim and Slide and of course, Ping Pong – Priscilla's favourite sport.
There's the Let's Go Shopping Girls community market, the Drag on Drag (play dress-ups up the main drag) and the Bloody Mary MooMoo Morning – for even the tenderest of heads the morning after. Eatin's cheatin' so the fab foodies out there can participate in the Snitzel Crawl, and with an astonishing 20 pubs in a town of 20,000, Broken Hill knows a thing or two about good Taphouse grub.
Fans will get the chance to meet the man behind Priscilla – Writer and Director, Stephan Elliot in an intimate Q&A and get up close and personal to Shirl – the Broken Hill barfly (Actress June Bennett) – who dared take on Bernadette in a drinking competition… and lost!
Drag divas Philma Bocks and Art Simone will be the festival hosts, so set your bitch-banter to 'drag queen' because these ladies are the babes of backchat.
Broken Heel is organised by the Palace Hotel, in Priscilla's spiritual home of Broken Hill. The Festival invites road-trippers, seekers of fun, and the outrageously spectacular to visit the quirky mining town on the western edge of NSW, just a mere 1,100kms from Sydney. What better time to visit than when Broken Hill will be at its most glamourous. The weekend will be jam-packed full of all laughs, lycra and levity.
Early bird tickets are on sale now darlings, so pack the heels, load the mascara and stay where the Queens themselves bunked, Broken Hill's famous Palace Hotel. Early bird tickets are just $157.50 +BF for the entire weekend of activities and available at www.moshtix.com.au.
The Broken Heel Festival takes place, Friday 11 – Sunday 13 September 2015. For more information, visit: www.bhfestival.com for details. The Outback has never looked so fabulous!