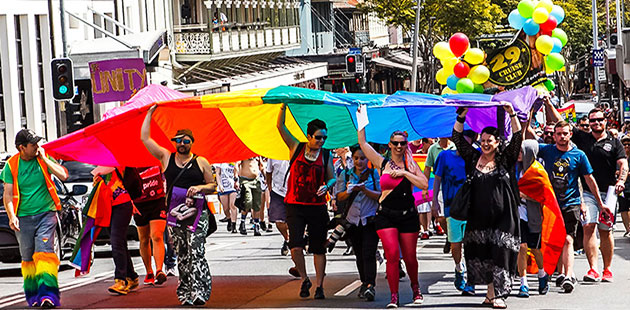 Brisbane Pride Festival Inc is an organistion that provides events for the LGBTIQ+ Sistergirl and Brotherboy communities of Queensland. Early this year Brisbane Pride Committee provided a statement to the community in relation to the 2020 Queens Ball and Brisbane Pride Annual General Meeting.
This week they met to discuss the annual Rally and Fair Day. The health and safety of all LGBTIQ+ Sistergirl and Brotherboy people is paramount to the decisions associated with conducting a Rally and Fair Day.
In 2019 we saw over 7000 people pass through the Fair Day gates to join the celebration of recognition, inclusion and visibility. Fair Day and the Rally provide a secure connection for community and allies, increasing the sense of belonging to the awesome community we are.
The Brisbane Pride Committee have reassessed the risks involved in hosting the 2020 Brisbane Pride Rally and Fair Day, and with careful consideration of the health and wellbeing of the community, Brisbane Pride Festival Committee want to communicate the following to our community members:
Brisbane Pride Month will be conducted across NOVEMBER 2020. This will allow the committee to develop and plan for both face to face and on line events depending on where Queensland is at with COVID. The LGBTIQ+ SB Community will be invited to be involved in the planning of these events, Stay tuned for details!
In addition, The Annual General Meeting will take place online in November 2020 and all financial members will receive relevant correspondence relating to this. While we all feel disappointed about the interruptions that COVID has bought us, we feel confident that this decision is the best way to move forward in protecting the health and safety of our communities.
---
For more information about the Brisbane Pride Festival, visit: www.brisbanepride.org.au for details.
Image: Brisbane Pride Rally – courtesy of Brisbane Pride Festival Inc / Funky Munky