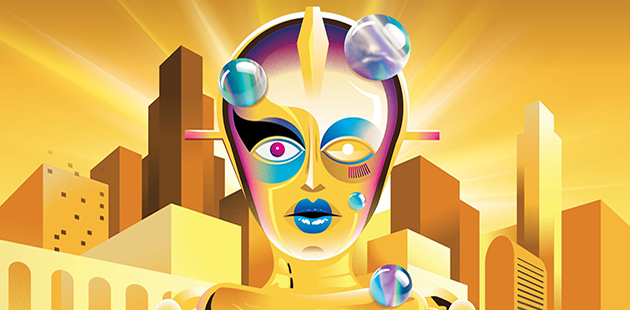 Now in it's 57th year, the Queen's Ball is one of the longest continuous running LGBTIQ events in the world. Originating at Tamborine Mountain in a time when homosexuality was still illegal in Queensland, the event has continued to thrive year after year, evolving into the pinnacle event on Brisbane's LGBTIQ calendar.
This year the ball returns to Brisbane City Hall for what is set to be its biggest event to date. With the recent marriage equality postal survey in 2017 behind us, this years theme – The Future is Fierce – is both a statement on moving forward as a community and also an opportunity to provide some excellent costume inspiration, especially for the hotly contested 'Belle of the Ball'.
"Last year with marriage equality on the horizon, we were heading to the chapel," said Michael James, Brisbane Pride Vice President. "This year we pondered the question, what next? Just because we have reached marriage equality doesn't mean we have reached a state of equality for our community as a whole, there are still more battles to be fought."
"In Queensland in particular we are still facing the issue of 'Trans Forced Divorce' which is currently before Queensland Parliament among other issues locally and nationally. So whilst we are set to party and celebrate the remarkable achievements of our community, this is also a statement that says we are looking to the future and looking at where we need to focus as a community next. "
Hosting the main stage this year will be two vocal and influential trans/non binary activists. Nevo Zisin – author of Finding Nevo: How I confused everyone will be joining local activist and representative of Out for Australia, Paige Wilcox .
"We're incredibly excited to have both of these esteemed personalities represent Brisbane Pride at the awards, and we look forward to the community embracing them on the night," adds Michael.
Of course the night wouldn't be complete without a stellar opening number by 10 of Brisbane's finest drag performers – as they deliver a fantastic show stopping number. Brisbane power diva Chrislyn Hamilton returns to the main stage to deliver a show stopping performance to ignite the dance floor, and local trans DJ and nominee for DJ of the year, DJ Beksis – will keep the party pumping right to the end.
The Queen's Ball also recognises achievements in Brisbane's LGBTIQ Community with seventeen community awards on offer this year. With voting closing last Friday, Awards to be presented include: Activist of the Year, Volunteer of the Year, Artist Of The Year, Young Achievement Award, First Nations Leadership and Engagement Award, and the coveted Lifetime Achievement Award, just to name a few…
Standard and VIP tickets are available and features a gourmet two course meal and four hour standard beverage package. VIP ticket holders will also be treated to a special one hour function, prior to the main event, inside the auditorium, that includes drinks, canapes and surprise entertainment – hosted by two of Brisbane's most powerhouse drag queens, Miss Synthetique and 2017 Drag Performer of the Year, Candy Surprise.
The Queen's Ball serves as a major fundraiser for Brisbane Pride Festival with proceeds from each event distributed to the Kal Collins Memorial Fund for further distribution to groups, individuals and organisations working towards bettering the mental health and wellbeing of the LGBTIQ community.
Brisbane Pride Annual Queen's Ball and Awards
Brisbane City Hall, 64 Adelaide Street, Brisbane
Event: Saturday 16 June 2018 (6.00pm / 7.00pm)
Information and Bookings: www.brisbanepride.org.au
Image: courtesy of Brisbane Pride