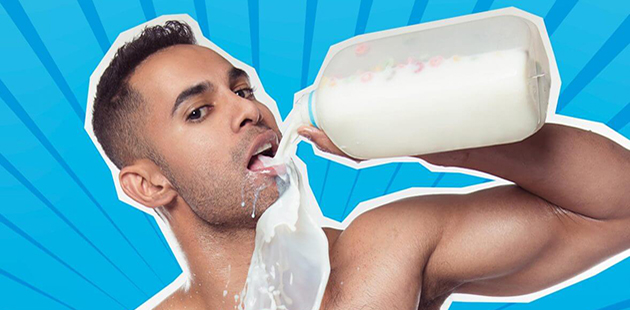 Bursting with pride, humanity, humour and rebellion, Melt 2017 will explode at Brisbane Powerhouse throughout January and February in an unbridled celebration of equality and the LGBTI+ community.
Premiering five new productions and bringing acclaimed interstate and international events, the queer arts and culture festival line-up includes an exciting and eclectic mix of actors, rock star singers, dancers, photographers, illustrators, comedians and circus artists from across the globe. Australian Pride Network takes a look at a eight events worth checking out:
#FOODP*RN
Visy Foyer: 25 January – 5 February
A witty, interpretive send-up of the 'foodporn' phenomenon, #FOODP*RN is the second major body of work, exhibition and book from creative portrait photographer Joel Devereux that satisfies an aesthetic, sensual hunger and encourages cravings of every imaginable kind. Drawing on the historical role of food as both universal and aphrodisiac, these works combine a playful critique of our recent obsession with food trends and celebrity chefs with a celebration of the male form that will leave you drooling.
An Evening with Amanda Palmer
Powerhouse Theatre: 3 – 4 February
Provocative, irreverent, controversial and wildly creative, Amanda Palmer is a fearless singer, songwriter, playwright, blogger and an audaciously expressive pianist who simultaneously embraces – and explodes – traditional frameworks of music, theatre and art. Palmer first came to global prominence as one half of the internationally acclaimed punk cabaret duo, The Dresden Dolls. She has since made international news when she turned the music industry and all previous Kickstarter records on their head with record breaking pre-sales for her album, Theatre is Evil. The album went on to debut in the Billboard Top 10 and has been released in over 20 countries on her own label, 8ft records.
A Night At The Musicals
Visy Theatre: 25 – 29 January
A tortured love letter to the glorious genre of musical theatre, spend an evening of unadulterated musical theatre nonsense with Jonny Woo and Le Gateau Chocolat as they drag you through the back catalogue of musical theatre with ballsy ballads, delightful duets and slaughtered show tunes. From Les Mis to The Lion King, Cabaret to Annie… no musical is safe! High glamah, intense assholism, divine costumes and raggedy choreography are guaranteed in a night you'll never forget!
Boys of Sondheim
Turbine Studio: 2 – 4 February
Undeniably one of the most significant gay artists of the 20th century, Stephen Sondheim defined an urbane, literate and uniquely New York voice that many would call the most important in musical theatre history. Featuring an extremely talented group of seasoned performers and enthusiastic new comers, Kurt Phelan, Sean Andrews, Stephen Hirst, Alexander Woodward and Tim Carroll will expose the soulful, masculine underbelly of Sondheim's work. Conceived and directed by Brisbane Powerhouse Artistic Director Kris Stewart and with narrations by Anthony Nocera, Boys of Sondheim is an intimate cabaret concert with music from the greatest musical theatre composer and lyricist, Stephen Sondheim.
I Am My Own Wife
Visy Theatre: 4 – 8 April
Not long after the fall of the Berlin Wall, playwright Doug Wright (Quills, Grey Gardens) began a conversation with Charlotte von Mahlsdorf, an elegant and eccentric 65-year-old German transvestite who, against all odds, survived two of the most oppressive regimes of the 20th century, the Nazis and the Communists. After hundreds of hours of interviews Wright emerged with this fascinating and breathtaking story of survival and identity. In this one-man tour de force, Wright uses more than 30 characters – all played here by Ben Gerrard (Molly, Open Slather) – to piece together Charlotte's controversial life. Winner of the 2004 Pulitzer Prize for Drama and Tony Award for Best Play, I Am My Own Wife is a profound and mesmerizing piece of theatre that should not be missed!
Panti: High Heels in Low Place
Powerhouse Theatre: Sunday 5 February
The Queen of Ireland, Panti, invites you into her gender discombobulating, stiletto-shaped world. Panti exposes the stories behind the makeup – from performance giant to accidental activist – to reveal the National F*cking Treasure she is today. In 2014, Panti landed herself in a legal sh*tstorm, dubbed 'Pantigate'. Her speech about homophobia went viral, was broadcast around the world, remixed by Pet Shop Boys, caused a parliamentary meltdown, and fed into Ireland's marriage equality referendum success. Hilarious and poignant, Panti traces her journey from small-town boy kicking against traditions to towering plastique woman in false lashes making history.
On A Night Like This
Visy Theatre: 27 – 28 January
In the early 80's, three young Melbourne girls were on the path to stardom. The first was Young Talent Time darling Dannii Minogue. The second was Kylie, who shot to fame on Neighbours and instantly acquired about 100 million adoring fans. But what about the third, their younger sister, Erin Minogue? The forgotten sister. Now Erin has her chance! A one-woman contemporary comedic cabaret featuring a swag of classic Kylie and Dannii hits, this is an eye-opening staged-biopic of an extraordinary life unled, revealing untold insight into a celebrity sibling who never existed, based on an entirely untrue story.
QueerTech.io
Turbine Walls: 25 January – 5 February
Responding to the growing international inquiry into practices of #queertech in digital art circles, the QueerTech.io artist collective (Alison Bennett, Travis Cox, Xanthe Dobbie & Mark Payne) have invited artists from around the world to come together digitally, physically and oh so queerly to contribute internet artworks, projects and provocations to the ongoing #queertech conversation. The QueerTech.io project will be embedded at Brisbane Powerhouse for spectacular data-projections which complement the QueerTech.io online exhibition.
Melt 2017 runs 25 January – 5 February. For more information and complete program, visit: www.brisbanepowerhouse.org for details.
Image: #FOODPORN – photo by Joel Devereux