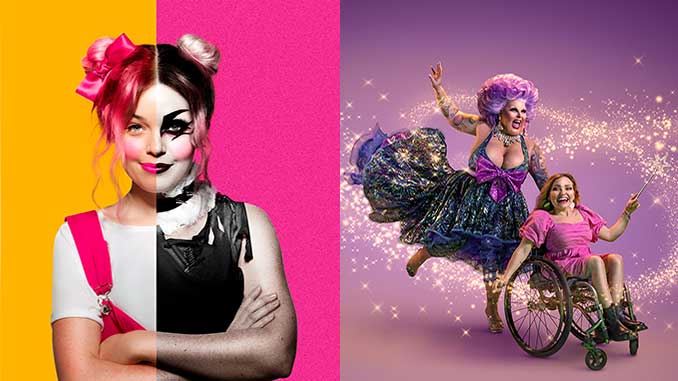 Brisbane Festival, in association with Queensland Performing Arts Centre (QPAC), is thrilled to announce it will stage the world premiere season of Bananaland – a brand-new musical comedy by two of Australia's most talented contemporary composers.
Created by Kate Miller-Heidke and Keir Nuttall, Bananaland is equal parts hilarious and uplifting, features a cast of unforgettable characters and makes its debut in QPAC's Playhouse as part of Brisbane Festival from 16 September to 1 October 2023.
Alongside this premiere season, shake & stir theatre co will make its return to Brisbane Festival, after the sold-out season of Fourteen in 2022, with a brand-new work, Tae Tae in the Land of Yaaas!, co-presented by QPAC and Brisbane Festival in QPAC's Cremorne Theatre from 25 August to 17 September 2023.
Brisbane Festival Artistic Director Louise Bezzina said both works showcase the importance of supporting and creating new Australian works.
"Brisbane Festival has a long and cherished history of championing new work and we are so delighted to once again partner with QPAC to bring these new shows to life," said Ms Bezzina.
"All of the key creatives for both works are proud Queenslanders, Kate and Keir and the artistic directors of shake & stir. We know how incredible these creatives are and that the end results will be something unique, quintessentially Australian and wholly magical."
"I am delighted to premiere these bold, brazen and inclusive new works at Brisbane Festival in 2023," said Ms Bezzina.
Chief Executive John Kotzas highlighted QPAC's long history of collaboration with the Brisbane Festival to bring new works to the stage and cultivate Queensland talent.
"Kate Miller-Heidke, Keir Nuttall and shake & stir theatre co. are wonderful examples of the exciting, contemporary creative teams emerging from the State," said Mr Kotzas.
"Kate, Keir and Simon Phillips found tremendous success with Muriel's Wedding The Musical here and throughout Australia. And audiences loved shake & stir's Brisbane Festival debut, Fourteen, which we were delighted to co-present last year."
"An important part of QPAC's role is to support Queensland artists and creatives in bringing new stories to life and to do so in two major productions as part of Brisbane's signature arts festival is a remarkable achievement for everyone involved and a terrific opportunity for audiences," said Mr Kotzas.
Minister for the Arts Leeanne Enoch said Brisbane Festival's track record of collaborations with QPAC has produced vibrant new Queensland works that showcase the unique stories and unique talents of our artists and arts organisations.
"The announcement of the world premieres of Bananaland and Tae Tae in the Land of Yaaas! as part of this year's festival program provide us with the promise of an exciting and diverse Brisbane Festival program in 2023," said Minister Enoch.
"These productions are another great example of the exceptional storytelling for which our state is known. We have so much home-grown talent in Queensland and it will be great to see this on stage at the Brisbane Festival 2023."
"The festival is going from strength to strength and the Palaszczuk Government is proud to support the great productions it stages year in, year out," said Minister Enoch.
Tourism Minister Stirling Hinchliffe said the month-long Brisbane Festival elevated the city's cultural offerings every September.
"Brisbane Festival is a real drawcard for the region, each year attracting thousands of visitors who come to experience world-class theatre, music, dance, opera and of course, Riverfire," said Mr Hinchliffe.
"It has become one of those iconic events you mark on the calendar each year. A time to celebrate with spring in the air and something for everyone to enjoy."
"It's also great for Brisbane's visitor economy with this year's festival expected to generate more than 85,000 direct visitor nights and more than $17.6 million in economic benefit.
"Local restaurants, bars and accommodation providers in Brisbane will all share in the benefits from this major cultural event, with the program spread out right across the city.
"It's terrific that the Palaszczuk Government through Tourism and Events Queensland is backing two of our state's most talented musical acts, Kate Miller-Heidke and Keir Nuttall, to premiere their new production Bananaland," said Mr Hinchliffe.
Brisbane's Lord Mayor Cr Adrian Schrinner said the city was delighted to be host to these two new Australian productions.
"Brisbane is a city that supports our own, and we love to see local stars shine on and off stage," said Cr Schrinner.
"Both Kate and Keir studied in Brisbane, and the shake & stir team has been delighting Queensland audiences since 2006, so it's safe to say that the river city has been a backdrop to this creative process."
"Brisbane Festival is the jewel in our arts calendar crown, and these world premieres will certainly get audiences excited for what's to come in September," said Cr Schrinner.
Kate Miller-Heidke said she and Keir looked forward to returning to QPAC after bringing their powerful one-woman opera, The Call, presented by Opera Queensland, to Brisbane Festival in 2022. "It has been exhilarating creating a completely new Australian musical from the ground up," she said.
"With renowned Director Simon Phillips at the helm, we have assembled a dream team of the most talented actors, musicians and designers. To able to achieve this in our hometown of Brisbane has been particularly thrilling."
"Lou Bezzina and Brisbane Festival's vision and ongoing commitment to create new original work is inspiring, and we are incredibly privileged to be a part of that," said Ms Miller-Heidke.
Simon Phillips said he was thrilled to work again with the music powerhouse duo. "I thought the contribution Kate and Keir made with their music and lyrics for Muriel's Wedding was inestimable," he said.
"When I heard they were working together on an original work, I couldn't wait to get involved. It's been a complete joy – smart, left-field and hilarious – they really are a bright light in the world of musical theatre," said Mr Phillips.
Bananaland follows Ruby, a 21-year-old idealist and her unintentionally hilarious protest band Kitty Litter. One fateful day Kitty Litter take the stage to be greeted by a sold-out audience… of small children. One of their songs has accidentally become a massive hit with preschoolers.
An uplifting and irreverent musical comedy, with a hook-filled score, Bananaland is by turns razor sharp and big-hearted. A tribute to the glorious absurdity of following an impossible dream and a celebration of live performance.
Composed by Kate Miller-Heidke and written by Keir Nuttall, Bananaland is directed by Simon Phillips with lighting design by Ben Hughes and set and costumes by Simone Romaniuk.
From the team behind the Brisbane Festival smash-hit Fourteen comes a sparkling new tragi-comedy told from the heart by nationally-acclaimed shake & stir theatre co. Inspired by the true story of Estee Lee and written by her sister shake & stir's Nelle Lee, Tae Tae in the Land of Yaaas! is confronting and honest.
It's an inspirational retelling of Tae's journey from adversity and heart-breaking loss to a life full of adventure, success and love, bolstered by the support of a phenomenal family and a loving community – and a fabulously Fairy Godmother played by Drag Queen superstar Maxi Shield (RuPaul's Drag Race Down Under).
Co-Director shake & stir's Nelle Lee said this new work offers a story of hope and fortitude, underscored by the power of love and human connection. "This project has been one of my most demanding undertakings to date, as it hits so close to home," said Ms Lee.
"My sister, Tae, has always been fabulous, and her uncanny ability to discover happiness in the unlikeliest of places has always left me in awe. We are thrilled to share this story with the world, and to have it brought to life by an incredible cast. It's going to be honest and heart-breaking, but also camp, positive and uplifting," said Ms Lee.
The world premiere season of Bananaland plays in QPAC's Playhouse from 16 September to 1 October. The world premiere season of Tae Tae in the Land of Yaaas! plays in QPAC's Cremorne Theatre from 25 August to 17 September 2023.
---
Tickets for Bananaland and Tae Tae in the Land of Yaaas! will go on sale from 9.00am on Friday 2 June. The 2023 Brisbane Festival returns from 1 – 23 September. The program will be released in early July. For information, visit: www.brisbanefestival.com.au for details.
Images: Bananaland (supplied) | Tae Tae in the Land of Yaaas! – photo by Damien Bredberg