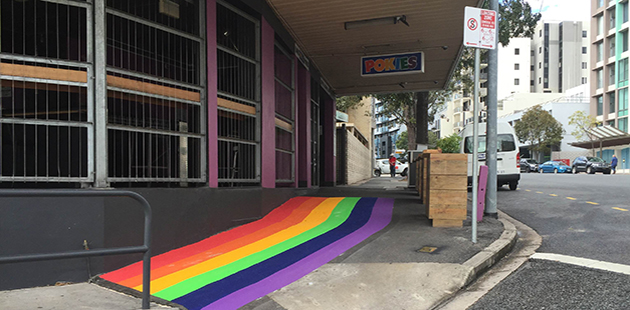 Brisbane City Council (BCC) has unveiled the city's newest public artwork – a rainbow footpath honouring its Lesbian, Gay, Bisexual, Transgender and Intersex (LGBTI) citizens.
The rainbow footpath is a replica of the internationally recognised symbol of LGBTI Pride – the rainbow flag, and is similar to other rainbow footpaths and crossings installed, or proposed, in multiple other countries, as well as in Newcastle, Adelaide, Sydney and Melbourne.
The residents group who initially requested BCC install a rainbow crossing, has praised Council. Brisbane LGBTIQ Action Group (BLAG) approached Council last year, but Council's investigations revealed that Queensland road regulations did not permit the required rainbow colours to be painted on a roadway. Instead Council has installed the rainbow footpath on the footpath in Leichhardt Street, Spring Hill – outside a Brisbane gay icon, the Sportsman Hotel.
This initiative follows hot on the heels of Council voting 19 to 5 (with 1 abstention) to pass a motion that Council "supports the legalisation of marriage between consenting adults regardless of sex, sexuality or gender identity". This motion was supported by all four sides of BCC politics, in what BLAG member, Jade Connor, described as an "overwhelming level of support".
The Council has also mounted a brass plaque on the footpath adjacent to the rainbow stating: Brisbane is a place where our differences are celebrated and our similarities unite us, where we value our lesbian, gay, bisexual, transgender and intersex (LGBTI) community. This rainbow artwork is a symbol of inclusion and diversity, and a call to end prejudice and discrimination.
When referring to this symbolic show of inclusion and diversity by Council, BLAG member John Ebert, adds "this footpath is a sign that all Brisbane citizens are respected and celebrates the contributions that members of the LGBTI community make to our city."
In addition to the artwork's "recognition of queer Brisbane's long history of contribution to our wonderful city", fellow BLAG member, Kristiana del Pace describes it as "a welcome and needed demonstration of inclusion to all residents."
According to BLAG member, Jade Connor, "recent events in America and signs in Australia show there is still a lot of intolerance around, making visually prominent symbols of acceptance and equality important, and Council should be congratulated."
A further BLAG member, Tony Robertson, says the rainbow footpath "affirms the presence and contribution of the LGBTIQ community to the city". It's in keeping with our city's slogan as a New World City, plus it also promotes Brisbane internationally as a tourist destination by "demonstrating to tourists and visitors that we welcome sexuality and gender diversity and value civic freedom."
Image: courtesy of Brisbane LGBTIQ Action Group