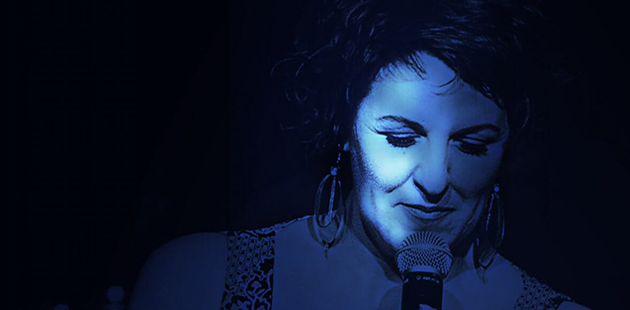 Over the course of an hour, Queenie van de Zandt performed as exquisite a biography as you're likely to hear. Near aural perfection, Queenie told the story of Joni Mitchell through her poetry and songs, accompanied by her band – music director Vicky Jacobs on piano, Jo To on double bass, and Gerard Assi on guitar. It's a well-written show, tightly scripted, even during the encore (as one audience member learned when they yelled out a song title: "I'm not taking requests, mate!").
Queenie distilled Joni Mitchell's life, liaisons, and art, into a tincture of love and grace. The songs were held together through voiceover, as well Queenie speaking as Joni, either with microphone or cup of tea in hand. The care taken in song selection and their arrangements was apparent. Blue was a beautiful opening, shifting organically into Tea Leaf Prophecy, and on from there.
Little Green was extraordinary and emotional, so no wonder Queenie chose to then shift gears and belt out an upbeat Big Yellow Taxi. That measure of jauntiness returned with Twisted before settling back down with Case of You, and a wonderful Both Sides, Now at the end.
A large self-portrait of Joni (from the painting she created herself for her recent Love Has Many Faces collection) sat onstage. Part totem, part example of her own history – a, "painter derailed by circumstance," – she's shown with hat down over her eyes, face obscured; here but not here.
Indeed, this isn't an exercise of impersonating Joni as it is showing reverence towards one of the greatest songwriters of the late 20th century. To be sure, Queenie does a magnificent job at it.
Blue: The Songs of Joni Mitchell
The Loft – Chapel Off Chapel, 12 Little Chapel Street, Prahran
Performance: Tuesday 27 June 2017 – 7.00pm
Season continues to 1 July 2017
Bookings: www.chapeloffchapel.com.au
For more information, visit: www.melbournecabaret.com for details.
Image: Queenie van de Zandt presents Blue: The Songs of Joni Mitchell (supplied)
Review: David Collins