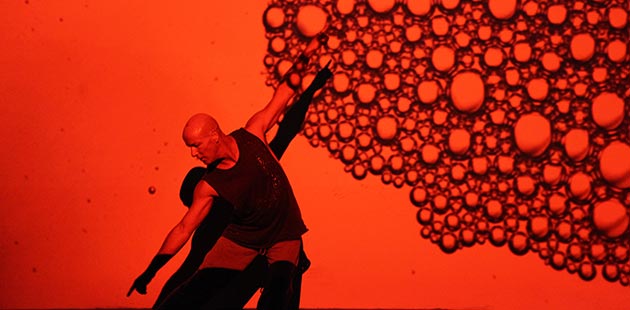 An unapologetic, passionate and visceral narrative that traverses time, space and characters, Blood on the Dance Floor explores the legacies and memories of bloodlines, our need for community, and what blood actually means – questioning how this most precious fluid unites and divides us.
A story about the desire to love and be loved, Blood on the Dance Floor is a striking and entertaining monologue that reveals secret identities and the deepest fears – it's seeking to invoke ancestral lineage in a contemporary quest for courage and hope.
A choreographer, dancer and writer from the Narangga and Kaurna nations of South Australia, Jacob Boehme was diagnosed with HIV in 1998. In search of answers, he reached out to his ancestors. Through a powerful blend of storytelling, projection and movement, Boehme pays homage to their ceremonies whilst dissecting the politics of gay, Blak and poz identities.
With a 20 year history working in Cultural Maintenance, Research & Revival of traditional dance with Elders and youth from urban to remote Indigenous communities across Australia, Jacob combines dance, puppetry and playwriting to create multi-disciplinary theatre, dance and ceremony for stage, screen, large-scale public events and festivals.
An original member of Assitej International's 'Next Generation of Youth Theatre Leaders', Jacob was a recipient of the Asialink Residency, working with Ishara Puppet Theatre Trust in Delhi, India, in 2010 and Alumni of the 2014 British Council's ACCELERATE Indigenous Leaders Program. Jacob was the founding Creative Director of YIRRAMBOI First Nations Arts Festival, 2017. 
Other International Residencies include teaching traditional and contemporary Aboriginal dance at Teatteri ILMI O in Helsinki, Finland and the Schaxpir Festival Linz, Austria
"Blood on the Dance Floor is an impressive accomplishment on many levels… it's well-proportioned and beautifully crafted, but perhaps most importantly, it tells a story that is rarely heard in a way that is accessible and, ultimately, affirming." – Limelight Magazine
Writer & Performer: Jacob Boehme Director: Isaac Drandic Choreographer & Rehearsal Director: Mariaa Randall Movement Coach: Rinske Ginsberg Dramaturges & Mari Lourey: Chris Mead Video Artist: Keith Deverell Sound Designer: James Henry Spatial Designer: Jenny Hector Costume Designer: Kelsey Henderson Production Manager: Nick Glen
---
Blood on the Dance Floor will be presented at the Darwin Festival (13 – 15 August); Latrobe Performing Arts Centre, Traralgon (17 August); Arts Centre Melbourne (20 & 21 August); Bunjil Place, Narre Warren (22 August); and Tuggeranong Arts Centre, Canberra (24 August). For more information, visit: www.jacobboehme.com.au for details.
Image: Jacob Boehme – photo by Dorine Blaise