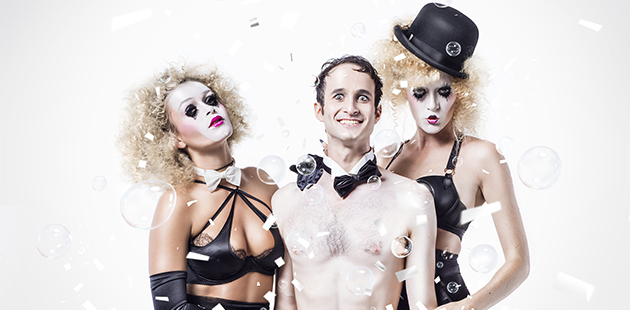 Delicious, salacious and teeming with high-end spectacle, Blanc de Blanc makes its world premiere at the Sydney Opera House Studio on Tuesday 12 January 2016 for a limited season.
Blanc de Blanc serves a blend of vintage glamour, high-end spectacle and titillating acts to infatuate, illuminate and delight. It brings the finest cabaret and acrobatic talent from around the world into a wild, shimmering night – expect big moves, great tunes, lots of skin, and more than a few surprises.
Created by Strut & Fret, the masterminds behind international festival sensations Limbo and Cantina, Blanc de Blanc is set to a seductive mix of DJ tracks and live foley – precisely the sort of seductive experience you've come to expect from the Sydney Opera House in summer, from the sizzling La Soirée to Club Swizzle.
Guests are invited to enter into the mood by dressing in vintage, white and gold, circus chic or a little bit of sparkle. Performers from around the world include:
Monsieur Romeo – He's got Dita von Teese on speed dial. Worked with all the big names: Armani, Vivienne Westwood, Jean-Paul Gaultier, Kylie, Lady Gaga. Stealing the hearts and ruffling the minds of Sydney. Punters, please form an orderly queue, we need to return him to Paris in one piece.
Masha – Born of Russian circus royalty, Masha has already ticked Cirque du Soleil from her to-do list. She's traversed the globe innumerable times in her young life – delivering sparkle with stamina. She's spinning and twirling from Eastern Europe into the international heart of circus showbiz.
Jaimi – Bouncing Brisbane beauty Jaimi will blow your bubbles and pop your cork! Blanc's resident girl next door has more than a few tricks to share – she'll fool you twice, and then some.
Shun – This flexibility wizard, B-Boy, breakdance legend and Tokyo local makes his Australian debut with Blanc. Combining street cool with the discipline that extreme contortion demands, he works in liminal spaces between dance, sculpture and pop culture – you won't believe what he can do.
Spencer – You know, light only shines on one side of the sequin. Some people thrive in darkness, lurking in the corners, smirking at the circus of it all. In the spirit of celebrating the subversive, we introduce Spencer. Of the show's many flavours, he's the bitter complement. Just don't expect him to be complimentary.
Expect a sumptuous evening of lavish laughs, heightened sensation and immersive, fantastical fun. Slip into something more comfortable, grab a glass and join the party. Blanc de Blanc offers bright top notes followed by rich textures, a smooth body and an utterly unexpected finish – strictly for ages 18+
Blanc de Blanc 
Studio – Sydney Opera House, Bennelong Point, Sydney
Season: 12 January – 28 February 2016 (previews: 7 – 10 January)
Bookings: (02) 9250 7777 or online at: www.sydneyoperahouse.com
For more information, visit: www.sydneyoperahouse.com for details.
Image: Blanc de Blanc (supplied)