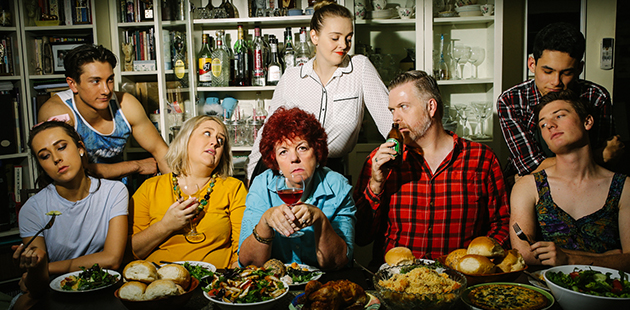 Exposing the raw, sinister and darkly funny underbelly of suburban Australian family life, Wayne Tunks' latest play, BITCH will receive its premiere at the Depot Theatre from 2 June 2017.
BITCH is a stunningly contemporary tale with relatable characters and themes of alcohol, gambling and porn addiction, family trauma, racism, gender politics and more. And, through it all, heart-warming humour!
The Post family are the epitome of dysfunctional. Matriarch Julie is a casual racist with a drinking and pokie habit. Son Jimmy is still reeling from trauma as a teen and 25 years later is still a seething mess of anger and sadness. Sister Robyn works in fashion retail, but her manager, Fiona, is anything but supportive.
Robyn has 17-year-old twins, Emma is in love with douche Matt, while Clint may love his boyfriend Reid but suspects he may have been born the wrong gender. BITCH is a gritty drama, full of black comedy.
"These are characters that people will recognise – maybe as members of the family we see on special occasions and just shake our heads…" says Tunks. "I have been working on this particular play for years, adding new bit all the time, aiming to create an important story, but more than that, a realistic story."
Tunks Productions is one of the leading producers of quality Australian independent theatre. Its hits include The Subtle Art of Flirting, We'll Always Have Wagga, The Bridesmaid Must Die!, Silvertop Ash, Hell Hath No Fury and Everything I Know I Learnt From Madonna.
Last year was especially huge for Tunks, presenting Flame Trees, Fag Boy and the Married Guy and two seasons of The Girlie Show – packing them in at theatres around Australia. Wayne Tunks has been a storyliner on Neighbours and is currently the Festival Director of Short+Sweet Sydney.
Director: Jessica Fallico & Wayne Tunks Featuring: Amy Victoria Brooks, Felicity Burke, Claire Johnston, Jasper Lee-Lindsay, Emma Louise, Nick Sinclair, Anton Smilek, Wayne Tunks
BITCH
Depot Theatre, 142 Addison Road, Marrickville
Season: 2 – 17 June 2017 (previews: 31 May – 1 June)
Information and Bookings: www.thedepottheatre.com
Image: The Post Family (supplied)