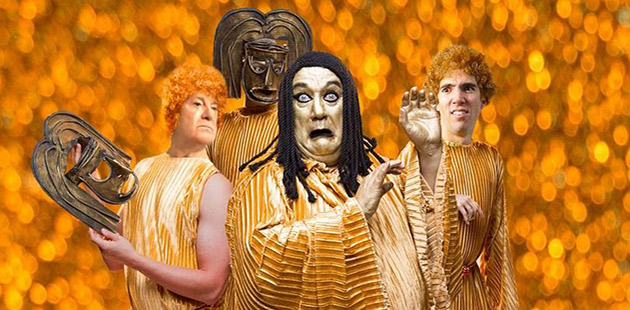 The Gods will be weeping as Out Cast Theatre's disgracefully disrespectful Edinburgh Fringe comedy hit, Bitch, Antigone! returns to The Butterfly Club this March.
Trauma, tantrums and more ham than a Greek deli as three gloriously talent-free thespians in ancient Greece attempt to claim the glittering prize at the Dionysian Drama Festival without killing each other or launching into Dusty Springfield numbers first.
A wicked retelling of the Greek classic, Bitch, Antigone! is fast, funny and totally unfocused and features Out Cast Theatre's Artistic Director Steven Dawson alongside Scott Middleton and Wayne Pearn.
Steven Dawson is an Australian actor, director of over 90 productions and writer of 57 works which have been performed across Australia, and in Chicago, Edinburgh, London and New York. Graduating from the NIDA Director's Course in 1985, Dawson was a member of the NIDA Playwrights Studio and holds a Diploma in Performance from the University Of Western Sydney.
He is the Artistic Director of Out Cast Theatre – Australia's longest running LGBTI+ theatre company. His plays include Distinguished Gentlemen, Here & After, The Importance Of Being Earnest As Performed by 3 F**king Queens & A Duck, Monstrous Acts, Mr Braithwaite Has A New Boy, The Adventures Of Butt Boy & Tigger and Jane Austen's Guide To Pornography.
Out Cast Theatre is Australia's longest running LGBTI theatre company with an emphasis on works relevant to the gay, lesbian, bi, straight, transgender communities  Out Cast was established in 1997. Since then they have undertaken very successful sell out seasons of their shows in Edinburgh, Dublin, Manchester, London and across Australia.
---
Bitch, Antigone!
The Butterfly Club, 5 Carson Place, Melbourne
Season: 9 – 21 March 2020
Information and Bookings: www.thebutterflyclub.com
Image: Bitch, Antigone! – courtesy of Out Cast Theatre