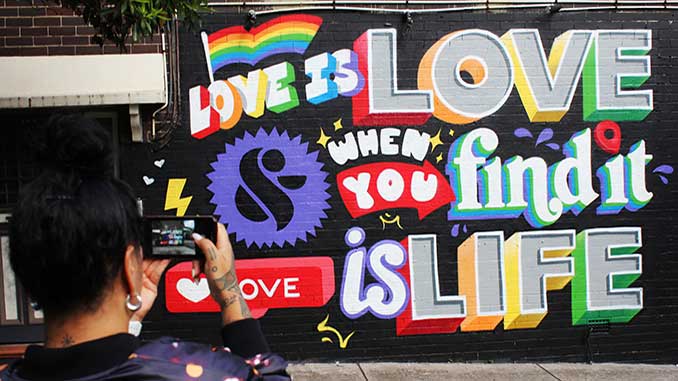 To ignite this year's theme of United we Shine – the Sydney Gay and Lesbian Mardi Gras and MINI Australia are celebrating Big Love is all around us – a movement of collective voices which has been brought to life across Sydney to inspire equality, pride and self-expression to create more Big Love in the world.
Last month, everyday Australians were invited to share their inspiring stories of #MINIActsofBigLove on social media with the wider community. From weddings to families to colleagues to pets, Australians showcased heart-felt words and treasured images to represent their personal meaning behind Big Love.
Now, three of these stories have been brought to life as impressive painted murals and unveiled in Bondi, Redfern and Paddington as part of the Mardi Gras festivities. The murals will act as a visual representation of Big Love, hope and unity in line with the MINI optimistic attitude to life and this year's Mardi Gras theme of United we Shine.
A QR code on each mural will direct visitors to video footage of the stories being told by the individual or couple themselves. The murals are free for the public to view and located at:
Bondi (celebrates rainbow families) – 21 Curlewis St Bondi Beach NSW 2026
Redfern (celebrates "love is love") – 265 Cleveland St, Redfern NSW
Paddington (celebrates marriage equality) – 412 Oxford St, Paddington NSW 2021
In addition, MINI Australia has also developed a digital platform called Map of Big Love which champions different perspectives on Sydney's Pride festival by profiling businesses and hotspots highlighted by the LGBTQIA+ community.
It will be a go-to map for special MINI activations taking place in the lead-up to the official Parade (5 March 2022). The Map of Big Love will be available post-event to continue advocating local businesses and sharing the voice of the LGBTQIA+ community.
As part of the Mardi Gras Parade on Saturday 5 March, MINI will lead a spectacularly bright and fun celebration of Big Love choreographed by world-renowned Amé Delves.
The Parade led by media personality Neale Whitaker; award-winning pastry chef Anna Polyviou; and RuPaul's Drag Race alumni Maxi Shield – will explode with dance, acrobatic elements and gymnastics in a fusion of music, dance, light and fashion.
---
For more information and to access the Map of Big Love, visit: www.mini.com.au for details.
Image: Redfern (celebrates "love is love")