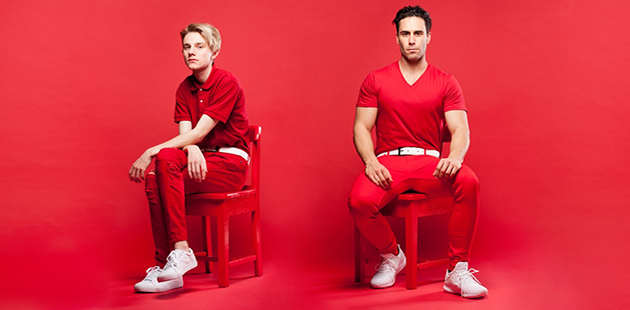 Lab Kelpie – one of Australia's leading independent theatre companies and Gasworks Arts Park – one of Melbourne's leading presenters of new work, have teamed up to co-present the world premiere of Become The One – a new play by emerging playwright Adam Fawcett at the 2019 Midsumma Festival this February.
When Noah captures the attention of Tom, a celebrated AFL player nearing the end of his career, sparks immediately fly. But as the season progresses and their relationship grows, questions around identity, sexuality and our devotion to hyper masculinity begin to surface, forcing us to consider what happens to love when good intentions and patience aren't enough anymore.
Featuring performers Chris Asimos (Three Sisters, State Theatre Company of SA) and Henry Strand (Macbeth, Bell Shakespeare) under the direction of four-time Green Room Award nominee Lyall Brooks (Broken, A Prudent Man), Become The One was voted by audience and industry peers as the winner of Playtime 2018 – Gasworks and Midsumma Festival's queer playwriting and development award.
"We are thrilled to have the privilege of presenting the world premiere season of such a vital work, with creators who care deeply about their audience, their artists and their art," said Marisa Cesario, Gasworks Arts Park. "The immediacy of Adam's writing combined with the incredible chemistry between the actors is riveting. The pacing, the humour and those gut-wrenching moments of raw emotion are something to revel in."
A modern love story featuring vibrant queer characters at its heart, Become The One interrogates the true meaning of bravery as it asks: what if the partner, not the athlete, became the driving force behind dismantling the last stronghold of heteronormative masculinity in Australian sport? What might they – and that journey – look like?
Director: Lyall Brooks Featuring: Henry Strand, Chris Asimo Composition & Sound Design: Tom Backhaus Lighting Design: Benjamin Morris Stage & Production Management: Tanje Ruddick
---
Become The One
Gasworks Theatre – Gasworks Arts Park, 21 Graham Street, Albert Park
Season: 1 – 9 February 2019 (preview: 31 January)
Bookings: www.midsumma.org.au or www.gasworks.org.au
For more information, visit: www.labkelpie.com for details.
Image: Henry Strand and Chris Asimo – photo by Pier Carthew