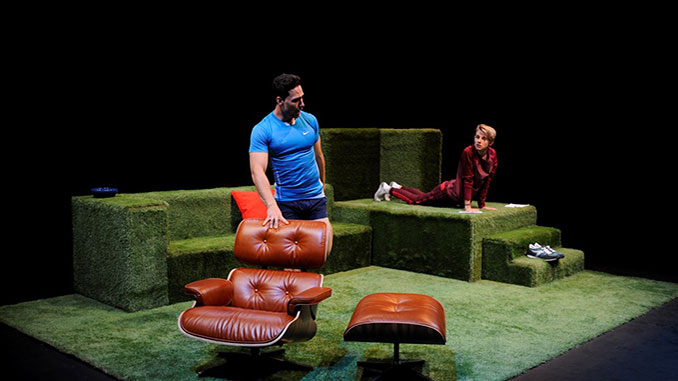 Winner of the 2018 Playtime Award for New Writing, Become The One by Adam Fawcett explores the true meaning of bravery and what it might take to do the right thing – as a lover, as a high-profile sportsman, as a human being – to become the one.
When Noah captures the attention of Tom, a celebrated AFL player nearing the end of his career, sparks immediately fly. But as the season progresses and their relationship grows, questions around identity, agency and our devotion to hyper-masculinity begin to surface, forcing us to consider what happens to love when good intentions and patience aren't enough anymore.
An award-winning romantic comedy featuring two vibrant, lovable characters at its heart, Become The One explores why a footballer would choose to remain closeted, and why their openly gay partner would choose to accept it.
Weaving a clever tapestry of comedy, drama and romance, the play repositions the typical "closeted sportsman" narrative by asking its audience to consider: What if it was the partner, not the athlete, that became the driving force behind dismantling the heteronormativity of Australia's national sport? What might they – and that journey – look like?
Under the direction of four-time Green Room Award nominee Lyall Brooks (Broken, A Prudent Man), Become The One features Chris Asimos (Three Sisters, State Theatre Company of SA) and Henry Strand (Macbeth, Bell Shakespeare).
Adam Fawcett is a playwright, writer and independent theatre producer based in country Victoria. As an emerging playwright, Adam chooses to prioritise the representation of queer characters in his work.
His first play, Become The One, was selected as winner of the 2018 Midsumma Playtime Award for new queer writing, and was presented by Gasworks Arts Park and Lab Kelpie at the 2019 Midsumma Festival.
His second play, Sissy, has received public readings at Seymour Centre in Sydney, Small and Loud at Arts Centre Melbourne and the Bradford Playhouse in Leeds, while his short play, Somewhere Only We Know, was recently performed in London.
A recipient of a 2018 Jacky Winter Gardens residency, his new play Every Lovely Terrible Thing was a finalist in the 2021 Midsumma Queer Playwriting Award.
Director: Lyall Brooks | Featuring: Chris Asimos, Henry Strand | Stage & Production Manager: Tanje Ruddick | Lighting Design: Benjamin Morris | Composition & Sound Design: Tom Backhaus | Playwright: Adam Fawcett | Producer: Lyall Brooks
---
Become The One will be presented across Victoria, News South Wales and the Australian Capital Territory including Bendigo (16 – 17 March); Upwey (19 March); Parkdale (22 March); Shepparton (23 March); Wangaratta (24 March); Stratford (26 March); Traralgon (29 – 30 April); Geelong (2 – 7 May); Colac (11 May); Hamilton (12 May); Portland (13 May); Warrnambool (15 May); Parramatta (19 – 21 May); and Canberra (26 – 27 May). For more information, visit: www.labkelpie.com or www.midsumma.org.au for details.
Image: Chris Asimos and Henry Strand feature in Become The One – photo by Jodie Hutchinson