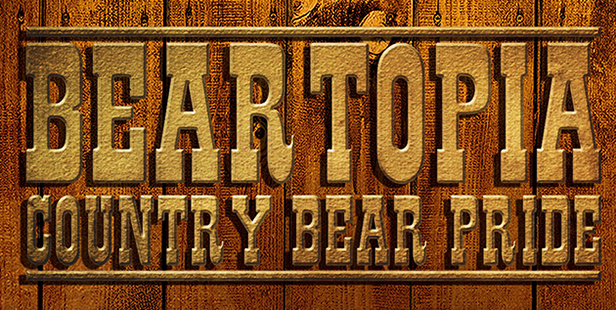 In the tradition of the fabulous ChillOut festival, VicBears is heading to Daylesford this weekend (2 – 4 December) for a bit of Country Bear Pride – where the city and country Bears can come together for three days of Bear themed fun.
The wonderful folks at The Daylesford Hotel have given Beartopia our very own Daylesford Den for the weekend, where every night between 5.30pm and 9.30pm you can come and have a drink, a feed or just hang out with other Bears till the evening events start. Beartopia events include:
Sunset Bears
Friday 2 December – 5.00pm
For Beartopia early arrivals. Come chill on the balcony of the iconic Daylesford Hotel and watch the sun set over your weekend playground. Grab a cocktail, a bite to eat and enjoy some tunes before heading downstairs for the opening party at 8.00pm. A great way to start the Beartopia weekend.
Beartopia Opening Party
Friday 2 December – 8.00pm
It's time to get this Country Bear Pride started so get your furry butts down to the Beartopia Opening Party. This is your first chance to check out The Den and Bear Garden as well as size up all the big, burly and bearded local, regional and interstate boys who have all made their way to Beartopia.
Country Bake Off
Saturday 3 December – 2.00pm
The Farmer's Arms Hotel in Daylesford will be hosting the 1st ever ChillOut & VAC Country Bake Off! Put your baking and decorating skills to the test and you could see yourself crowned as the baking King or Queen of ChillOut.  Sift that flour, beat those eggs, cream that butter … and get baking. Come along and join in the auction – from 4pm for your chance to take away the best of the show.  All cakes competing in the show will be auctioned off with funds raised going towards supporting VAC Country and ChillOut.
Country Bear Party
Saturday 2 December – 5.00pm
What do you get when you cross amazing venues, some top DJ's, and a couple hundred bears in party mode? Country Bear Party is being held over two venues, starting at the Daylesford Hotel at 5.00pm, then The Old Hepburn Hotel from 8.00pm, incorporating all the aspects of the infamous VicBears underwear parties with some regional hospitality and a whole lotta country fun. Jump on one of the shuttle buses between the two venues for a gold coin donation.
Best of Daylesford Gourmet BBQ
Sunday 4 December – 12.30pm
This is not your ordinary Sunday BBQ. This is your chance to taste some of the best local produce Daylesford has to offer. Menu includes: menu: Sher Australian Wagyu beef burgers, Plains Paddock Lamb on a spit, Country Style Smallgoods Ballarat free range sausages, all served with a selection of fresh salads. A great way to end the Beartopia weekend – some great food, chilled beers, relaxed atmosphere, good company and cool tunes!
Sexy Santa Pub Crawl
Sunday 4 December – 2.00pm
Dress in your favourite Santa or Christmas-themed costume and be one of over 500 sexy santas on this fun, charitable pub crawl. Starting in the main street of Daylesford, and moving from pub to pub, the 2016 Sexy Santa Pub Crawl benefits: RSPCA, Living Positive Victoria, CFA, Christmas Cheer Daylesford, and the ChillOut Festival.
Beartopia runs 2 – 4 December 2016. For more information, visit: www.chilloutfestival.com.au or www.facebook.com/VicBearsInc for details.
Image: Beartopia Country Bear Pride