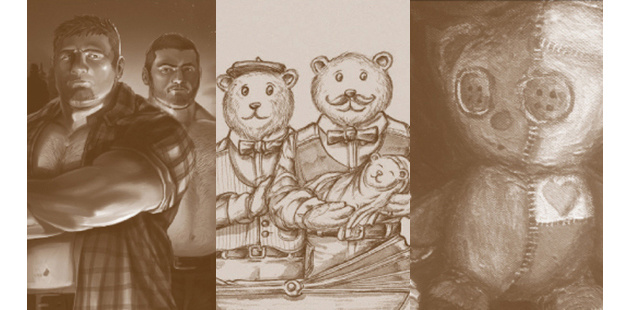 A new art exhibition and silent auction at The Laird Hotel in November will support local artists, while raising necessary funds for LGBTIQ community organisation, Switchboard Victoria.
Bearing the Burden will feature works by artists Andrew Li, Chris Wong, Kenton Penley, Marco Ryan and Jimmy Twin who each have interpreted the title theme in their own unique way, bringing together an exhibition featuring painting, digital work, ink sketch and cartoon work.
All works exhibited in Bearing the Burden will be for sale via a silent auction during the course of the exhibition (6 – 21 November) with the highest bid revealed during the Open Day (where all members of the community are welcome to attend) on Saturday 21 November 2015.
Each piece will have an advertised set reserve going directly to the artist, with 100% of proceeds raised above the reserve going to Switchboard. In addition, post cards of selected works will be made available for sale at the Laird Hotel with 100% of proceeds also going to Switchboard. Artists featured in the Bearing the Burden exhibition include:
Andrew Li was the winner of the Laird Hotel's 2014 Men on Men Art Competition and combines digital work with ink and water colour to create endearing scenes of gay relationships and culture.
Chris Wong is a Malaysian-born gamer, geek and digital illustrator of fantasy/sci-fi artwork and the occasional online gay stories book cover, and examines elements of bear gay culture.
Kenton Penley is a cartoonist with a passion for basic human rights, who uses his wit and charm to bring a humorous twist to often controversial and sensitive issues.
Marco Ryan's diverse skills involve him in illustration animation, film and game design, with his quirky and detailed illustrative work primarily constructed using ball point pen.
Jimmy Twin is the curator of Bearing the Burden, winner of the Laird Hotel's 2012 Men on Men Art Competition's People Choice Award and is the author of the weekly comic strip Frankie – about the dating misadventures of a gay zombie.
Exhibited works will be featured on www.bearingtheburden.info during the exhibition time period with silent auction bids accepted through the website and at the Laird Hotel.
Switchboard Victoria is a community organisation which provides a free, confidential and anonymous telephone and web counselling, referral and information service for the Victorian and Tasmanian lesbian, gay, bisexual, transgender, intersex and queer (LGBTIQ) communities and their supporters.
Bearing the Burden
The Laird Hotel, 149 Gipps Street, Abbotsford
Exhibition: 6 – 21 November 2015
Open Day: Saturday 21 November 2015 (2.00pm – 6.00pm)
Free entry
For more information, visit: www.bearingtheburden.info for details.
Image: Artwork of Chris Wong, Marco Ryan and Jimmy Twin (courtesy of the artists)