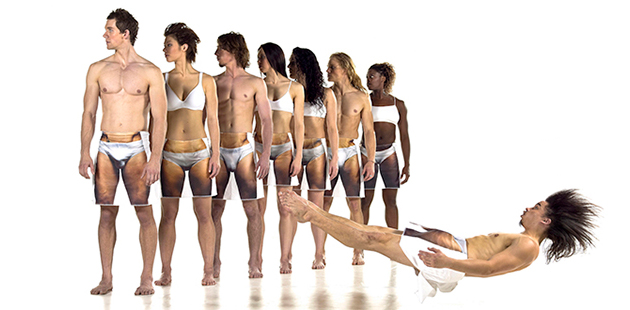 Australian Dance Theatre (ADT) has thrilled sell-out audiences around the world with their cutting edge dance performances. Now the internationally acclaimed company brings Be Your Self (Redux) to Riverside Theatres for the first time for one performance only on Saturday 2 September 2017.
In Garry Stewart's Be Your Self (Redux) the phenomenal dancers of ADT prove why this is one of the world's most-physical dance companies. Engaging audiences in a complex dialogue in which they are compelled to explore what makes you 'you'. The athletic dancers of ADT are transformed into erupting, powerful, and emotional entities, projecting startling physical images, that combines powerful choreography, emotion, and humour.
Arising from conversations with a Buddhist monk, neurologist, physiologist and literary academic, Stewart situates the body at the centre of his inquiry and reveals that despite our civilising cultural influences, the body is still a force to be reckoned with.
A distilled version of the original work, Be Your Self (Redux) fuses Stewart's audacious choreography with spoken word to create an exciting dance work that leaves audiences questioning the underpinnings of who they are. Whether new to contemporary dance or a longstanding fan of the art form, audiences will be blown away by this extraordinary work, creating an unforgettable experience.
"Unquestionably Stewart's greatest work to date, Be Your Self offers a staggering, breathtakingly powerful series of panoramic embodiments of how the body receives and processes the myriad of experiences it's subjected to." – dB Magazine
Conceived & Directed: Garry Stewart Associate Artistic Director: Elizabeth Old Choreographed: Garry Stewart & the ADT dancers Assistant Choreographer: Larissa McGowan Sound Designer: Brendan Woithe (colony nofi) Lighting Designer: Damien Cooper Costume Designer: Gaelle Mellis Technical Director: Paul Cowley Dramaturge: Professor Julie Holledge Consulting physical therapist/physiologist: Michael Heynen Neurobiology consultant: Professor Ian Gibbons
Be Your Self (Redux)
Riverside Theatres, Corner Church and Market Streets, Parramatta
Performance: Saturday 2 September 2017 – 8.00pm
Bookings: www.riversideparramatta.com.au
Be Your Self (Redux) will also be presented at the Frankston Arts Centre (Friday 8 September) and Mildura Arts Centre (Tuesday 12 September). For more information, visit: www.adt.org.au for details.
Image: Be Your Self (Redux) – photo by Chris Herzfeld (Camlight Productions)