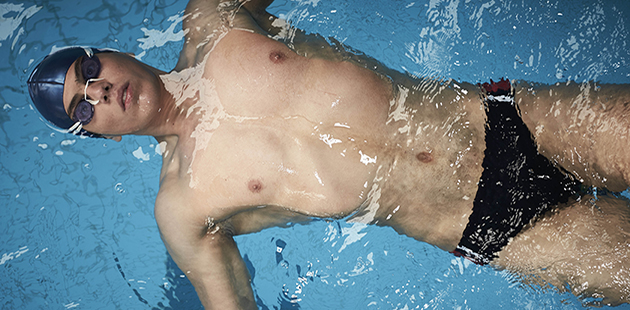 Based on the provocative novel by acclaimed writer, Christos Tsiolkas, and re-uniting key creatives who produced The Slap, Barracuda is an unflinching look at Australia's national obsession with sporting heroes. A brutal clash of cultures, dreams and expectations and the relentless demands we place on our young athletes, their families, schools, friends and coaches.
Melbourne 1996. The Golden Age of Australian swimming is beginning and a scholarship to an exclusive boys school brings 16-year-old Danny Kelly one step closer to his ultimate goal – winning Olympic gold.
Initially, Danny struggles to find his place in the prestigious social circles of the private boys school. However under the charge of highly regarded coach Frank Torma and a friendship/rivalry with teammate Martin Taylor, Danny is soon on track to become Australia's youngest swimming champion, the unstoppable 'Barracuda'.
Soon, everyone has a stake in Danny's success and as he swims closer towards gold, he finds himself being drawn into a world where the only thing that matters is winning. When he gets his shot at victory, with all of Australia watching – can the 'Barracuda' live up to everyone's expectations and realise his dream?
Aapted for television by writers Blake Ayshford & Belinda Chayko, Barracuda is directed by Robert Connolly features newcomer Elias Anton as Danny Kelly, plus Matt Nable, Rachel Griffiths, Jeremy Lindsay Taylor, Benjamin Kindon, Andrew Creer, Victoria Haralabidou, Tilda Cobham-Hervey, Rhys Mitchell, Joel Klocek, Joel Lok and Nicole Gulasekharam.
Robert Connolly is an award winning producer, screenwriter and director. He is best known as the director and writer of the feature films Paper Planes, Balibo, Three Dollars and The Bank, and the producer of high-profile Australian films Romulus, My Father, The Turning and The Boys.
Connolly's television directing credits include The Slap and Underground: The Julian Assange Story, and in 2014 he co-produced the eight part miniseries, Gallipoli. He has also executive produced the films Chasing Asylum, Spear and These Final Hours, and is a director of celebrated production and distribution company, Arenafilm.
This is the first collaboration between writers Blake Ayshford (episodes 1 and 3) and Belinda Chayko (episodes 2 and 4). Blake is an award winning writer on series such as The Devil's Playground, The Codeand The Straits. He also produced The Devil's Playground for Matchbox Pictures. Other television credits include Tomorrow, When the War Began, Nowhere Boys and An Accidental Soldier. He also wrote the feature film Cut Snake.
Belinda is also an award winning writer and credits include Secret City, Old School, Miss Fisher's Murder Mysteries and Saved. She also wrote and directed the feature film Lou. Her first feature City Loop debuted at the Toronto International Film Festival.
Barracuda will air at 8.40pm on ABC1 from Sunday 10 July 2016. The entire 4 part series will be available on ABC iview after the first episode. For more information, visit: www.abc.net.au for details.
Image: Elias Anton as Danny Kelly in Barracuda (supplied)