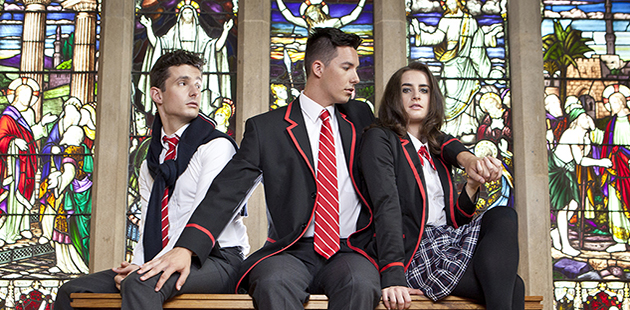 Set against the backdrop of a Catholic boarding school in the early 2000s, StageArt presents Victorian professional premiere of the contemporary cult classic pop opera, bare The Musical at Chapel Off Chapel from 21 March 2018.
Through its pulsating rock score and emotionally charged story, bare has thrilled and moved audiences around the world. bare is the story of star-crossed lovers Peter, who is preparing to come out to his mother, and Jason, who wants their love to remain a secret in fear of losing his status as a popular athlete.
The students at the boarding school are rehearsing for their production of Romeo and Juliet, while struggling with their own ideas around religion, sexuality and identity. The students find release by delving into the underground party scene and experimenting with its associated vices.
Provocative, raw and unapologetic in its depiction of how its generation navigates the tightrope between adolescence and adulthood; with a unique sung-through pop score and soul-baring lyrics, bare explores the dangers of baring your soul, and the consequences of continuing to hide.
StageArt has gathered a stellar creative team to bring this provocative, raw and unapologetic tale to life. bare is directed by Dean Drieberg, who directed StageArt's Memphis the Musical in 2017. Drieberg is known for his outstanding work as a producer, having worked on Titanic the Musical, Saturday Night Fever and Dreamgirls.
Drieberg is joined by Caleb Garfinkel (Spring Awakening, The Color Purple) who will be delivering the much-loved pop rock score as Musical Director, and rising choreographer Kirra Sibel is also back on board after her success with Memphis the Musical.
bare The Musical stars VCA graduate Adam Di Martino (Mack and Mabel, Titanic, Strictly Gershwin) as Peter – who no longer wants to live a lie and is ready and willing to come out as gay. Peter's mother Claire, who is not ready to hear the truth about her son, is played by Mandi Lodge (Shirley Valentine, Always Patsy Cline, Memphis, Menopause the Musical).
Peter's lover, Jason, the popular athlete at the school is played by WAAPA graduate Finn Alexander (Assassins, Chicago, The Crucible) – who is making the move from Perth to Melbourne to star in bare.
Caught in the middle is Matt, who has seen Peter and Jason kiss at a rave and is unsure what to do. Matt is played by Jake Fehily (A New Brain, The Full Monty). Ivy, the beautiful but troubled girl who has her sights set on Jason, is played by Hannah McInerney (Spring Awakening, Dogfight) who recently toured the country singing backup vocals for her indie-rock sensation sister, Meg Mac.
Sharp-tonged Nadia (Jason's sister) is outspoken about Ivy's pursuit of her twin brother. She is played by Hannah Grondin (Rent, The Best Little Whorehouse in Texas), a recent graduate of the Queensland Conservatorium. Ivy's inept understudy for the school play, Diane, is played by HaNy Lee (Neighbours), and the resident school drug dealer, Lucas, is played by Tom New (The King & I, Made).
Rounding out the cast is Zenya Carmellotti as Rory, Stephanie Marion Wood as Kyra, Morgan Heynes as Tayna, David Cuny as Zach, Jye Cannon as Alan, Vanessa Menjivar as Sister Chantelle and Quin Kelly as the Priest.
Written by Jon Hartmere and Damon Intrabartolo, bare The Musical premiered at the Hudson Theatre in Los Angeles in October 2000 and has gone on to play Off Broadway, spawning performances across the USA, UK, Europe and Asia. The popularity of these productions have made it a cult status amongst music theatre fans around the world and a noted significant piece within the history of gay theatre.
bare The Musical
Chapel Off Chapel, 12 Little Chapel Street, Prahran
Season: 21 March – 15 April 2018 (preview: 20 March)
Bookings: www.chapeloffchapel.com.au
For more information, visit: www.stageart.com.au for details.
Image: Adam Di Martino, Finn Alexander, Hannah McInerney star in bare The Musical – courtesy of StageArt