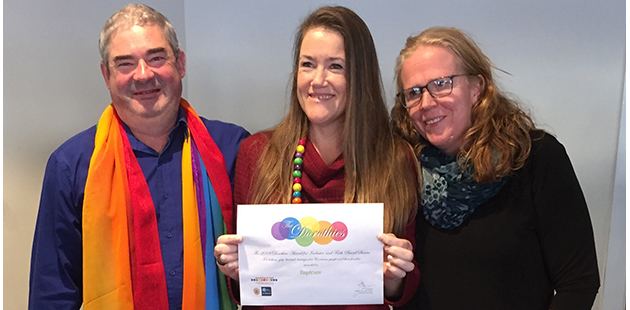 This year's Dorothy Award for inclusive LGBTI practice has gone to Baptcare Tasmania at a special event in Hobart. The Dorothy Award is given each year to mark the International Day Against Homophobia, Biphobia, Intersexism and Transphobia (IDAHOBIT) at a breakfast in Hobart organised by Tasmanian LGBTI support and training service, Working It Out.
"Baptcare demonstrated that they are actively addressing discrimination and prejudice and have developed a set of Diversity Standards and a Diversity Workgroup to help drive inclusion," said Working It Out Executive Director, Susan Ditter. "It's great to see a Tasmanian faith-based organisation taking the lead on LGBTI inclusion."
The Dorothy Award was accepted on behalf of Baptcare by Andrew Billing, General Manager of Mission Development: "The Baptist faith tradition, like many others, was born from the fires of discrimination. As such, Baptcare take prejudice and equality seriously. This is well expressed in one of our WE CARE values: Respect."
"To us this means understanding and embracing each person's individuality, standing up for their equality and protecting their dignity. Our values, such as Respect, help to drive our actions in developing policy and practice that support LGBTI clients, employees and stakeholders and make sure we're working diligently toward our mission of partnering for the fullness of life with all people regardless of age, culture, belief, sexual orientation and gender identity."
"I acknowledge the great work done by the members of our Diversity Committee for their role in informing Baptcare diversity policy and practice. This award recognises their work, as it does the work of all Baptcare people who diligently seek to make a difference in the lives of all groups who are disadvantaged or face prejudice. Importantly it also encourages us to continue to live our values and evolve our inclusivity and diversity practices as we seek to provide quality of life outcomes for all those we serve."
Acting Police Commissioner, Scott Tilyard, spoke about improvements in the Tasmania Police Service since it began LGBTI awareness training and formal liaison with the LGBTI community over twenty years ago. He then announced that the 2019 Dorothy Award will be for inclusive practice in police and emergency services including the police, ambulance and fire services, the SES, and the state's hospital emergency rooms.
For more information about Working It Out, visit: www.workingitout.org.au for details.
Image: Baptcare Tasmania Staff with their Dorothy Award for Inclusive Practice (supplied)