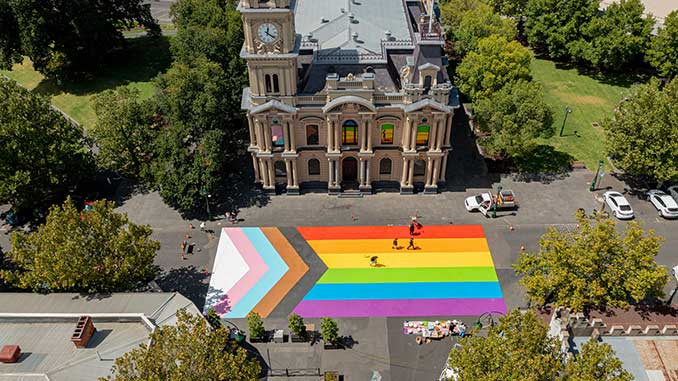 Events celebrating lesbian, gay, bisexual, trans and gender diverse, intersex and queer (LGBTIQ+) communities will continue to drive inclusion in Bendigo and beyond, with more support from the Victorian Government.
Minister for Equality Harriet Shing and the Member for Bendigo West Maree Edwards today celebrated new funding for the Bendigo Queer Arts Festival delivered via the Victorian Budget 2023/24.
"The Bendigo Queer Arts Festival's events provide important visibility for LGBTIQ+ people in Central Victoria and we're proud to be supporting them as they continue their work," said Member for Bendigo West Maree Edwards.
This funding will help the organisation to continue running LGBTIQ+ arts and culture events including the annual Bendigo Pride Festival, Bendigo Queer Film Festival and the Queer Country Art Exhibition.
The investment comes as community groups, organisations and artists across the state are being given the chance to be part of Victoria's next annual state-wide celebration of our diverse LGBTIQ+ communities, Victoria's Pride and the Regional Activation Program.
"The regional and rural activities we are supporting for Victoria's Pride are a wonderful opportunity to bring pride, diversity and connection to every community in Victoria," said Minister for Equality Harriet Shing.
Victoria's Pride is an annual state-wide celebration of our diverse LGBTIQ+ communities. It includes a series of regional events held over the summer months and a one-day street party in Melbourne's iconic Gertrude and Smith Streets precinct, which will take place on 11 February 2024.
The event gives all Victorians the chance to learn about and demonstrate their support for LGBTIQ+ communities along with providing opportunities for LGBTIQ+ people to connect and express pride in who they are.
Leading LGBTIQ+ arts and cultural organisation Midsumma delivers Victoria's Pride in a partnership with the Victorian Government.
"This is an exciting opportunity for organisations, community groups and artists across regional and rural Victoria to drive inclusion in our state and create a state-wide celebration of our rainbow communities," said Deputy Premier and Member for Bendigo East Jacinta Allan.
---
From now until 8 August, Midsumma is seeking proposals for commissions of up to $15,000 for regional and rural Victorian activities planned for delivery on or in the lead up to 11 February 2024. For more information, visit: www.midsumma.org.au for details.
Image: Progress Pride Flag in Bendigo – courtesy of Bendigo Pride Festival