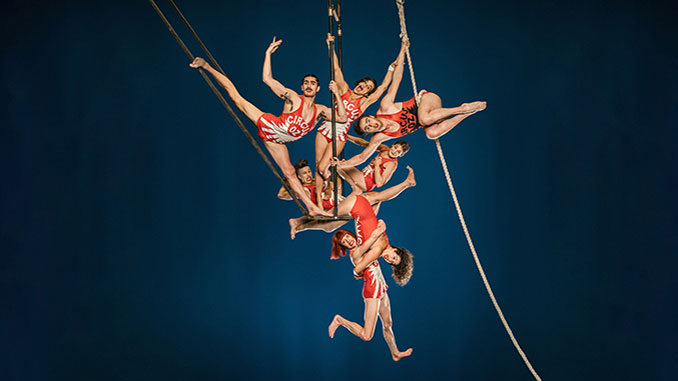 Australia's original world-famous and ground-breaking Circus Oz is back in the Melbourne International Comedy Festival after 30 years with a fresh and all-new show at The Forum for two weeks only this April.
Experience a collision of comedy, clowning, acrobatics, skipping, bows and arrows, beauty, cranking live music, muscles, flying trapeze, juggling, slapstick, crazy antics and daredevilry by the hand of an eclectic ensemble spanning six decades. It will leave you breathless, laughing, and wanting to backflip home!
The all-new show, designed for a multi-generational audience, brings together an extraordinary group of multi-skilled artists committed to making every single performance surprising, beautiful, and dangerous.
The whole extravaganza is directed by Nicci Wilks, an award-winning performer and creator known for her brilliant comedy whose credits include work with Circus Oz, Melbourne Theatre Company, Malthouse Theatre, KAGE, CIRCA, Melbourne Workers Theatre, Monoxide Circus, Flying Fruit Fly Circus and Hothouse Theatre.
"It's a short, fast and furious show reflecting an eclectic mob celebrating the human body in all its ages, with all its awkwardness and all its strengths and what makes us laugh: trouble," said director and Circus Oz Co-Artistic Co-ordinator Nicci Wilks.
Celebrating 45 years this year, Circus Oz has struck an acrobatic chord with audiences from Hobart to Arnhem Land, from Fremantle to the Sydney Opera House and all points in between. They've toured to over 30 countries across five continents, where in each place, inevitably, audiences have never seen anything quite like their spectacle of hilarity before.
They've played sell out seasons on 42nd Street in New York, one-off gigs at refugee camps on the West Bank; they've performed at the Royal Festival Hall in London, the Tivoli in Copenhagen, in a glass opera house in the Brazilian rainforest, in a tent erected in the Plaza de Toros Monumental in Barcelona and another in a walled compound in Bogota where the crowds almost rioted to get in.
Director: Nicci Wilks | Devisors & Performers: Debra Batton, Jarred Dewey, Sharon Gruenert, Spenser Inwood, Flip Kammerer, Chris Lewis, Leo Pentland, Carl Polke, Olivia Porter | Co – Artistic Coordinator: Stephen Burton | Creative Consultant: Susie Dee | Choreographic Consultant: Michelle Heaven | Costume Design: Laurel Frank | Lighting Design: Gina Gascoigne | Technical Director: Tim Coldwell | Production Manager: Dans Sheehan | Rigger: Christian Schooneveldt-Reid
---
Circus Oz by Circus Oz
The Forum Downstairs, 154 Flinders Street, Melbourne
Season: 7 – 23 April 2023
Information and Bookings: www.circusoz.com
Image: Circus Oz (supplied)