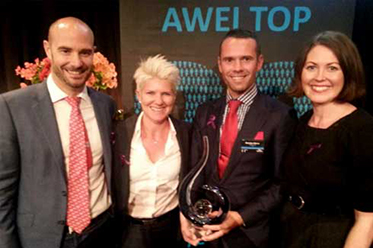 Goldman Sachs has been named Australia's Employer of the Year for 2014 at a special event recognising workplace support for lesbian, gay, bisexual, transgender and intersex (LGBTI) people.
The Australian arm of the global financial services firm topped a list of 20 organisations which were recognised today at a special luncheon in Sydney organised by Pride in Diversity, Australia's first and only national employer support program for the inclusion of LGBTI people in the workplace.
The awards were determined using Pride In Diversity's Australian Workplace Equality Index (AWEI), a free service provided annually by Pride In Diversity that evaluates and benchmarks LGBTI inclusiveness in Australian workplaces.
Other awards at the luncheon included:  LGBTI Employee Network of the Year (Australian Federal Police – GLLO); Highest Ranking University (Curtin University); Highest Ranking Public Sector Organisation (Australian Federal Police); and Achievement Award for Most Improved (Herbert Smith Freehills).  American Express won an Innovation Award and Youth Action NSW won the 2014 Small Employer Award.  Australian Red Cross Blood Collection was also named Highest Ranking Not-for-Profit/Charity.
This year individuals from Herbert Smith Freehills (Tony Wood), Department of Defence (Squadron Leader Vince Chong and Flight Sergeant Ronald Kelly) and Curtin University (Sally Webster) were also acknowledged for their significant contribution to LGBTI workplace inclusion initiatives. Speakers at the sold-out event at the Ivy Ballroom in Sydney included Pride In Diversity patron the Hon. Michael Kirby and Lieutenant Colonel Cate McGregor.
Pride in Diversity Director Dawn Hough says more organisations are engaging with AWEI. "This is the fourth year of the AWEI. The number of employers participating has increased by 83% from Year 1 and we now have over 5650 employees participating in the employee survey."
"The focus on LGBTI inclusion initiatives has increased substantially.  Organisations outside of the Top 20 are completing submissions showing a depth of work comparable to Top 10 organisations a couple of year ago.  Australian employers are taking their work in this area very seriously."
"LGBTI inclusion within Australian workplaces is on the rise and is fast becoming a differentiator in the workplace diversity agenda."
Ms Hough says the luncheon and awards, which every year commemorate International Day against Homophobia and Transphobia, provide a valuable platform for organisations to highlight the quality of their LGBTI workplace diversity practices as well as provide a national benchmark on what organisations are doing in this space.
"Pride in Diversity congratulates all the organisations recognised today on their significant achievement and for showing great leadership in the area of diversity and inclusion," Ms Hough concluded.
The 2014 Top 20 Australian employers for LGBTI people are: 
1. Goldman Sachs
2. Curtin University
3. Westpac Group
4. Commonwealth Bank
5. ANZ
6. Australian Federal Police and IBM (Joint 6th)
8. The University of Western Australia
9. Lend Lease
10. KPMG and Accenture (Joint 10th)
12. Herbert Smith Freehills (first law firm)
13. Chevron
14. National Australia Bank and Macquarie Banking Financial Services (Joint 14th)
16. Central Coast Young People's Mental Health
17. American Express
18. EY
19. Macquarie University
20. Gilbert + Tobin and Australian Red Cross Blood Service (Joint 20th)
For more information, visit: www.acon.org.au or www.prideindiversity.com.au for details.
Image: Goldman Sach representatives accept their 2014 Employer of the Year Award at the Pride and Diversity Awards Luncheon 2014 – photo courtesy of ACON