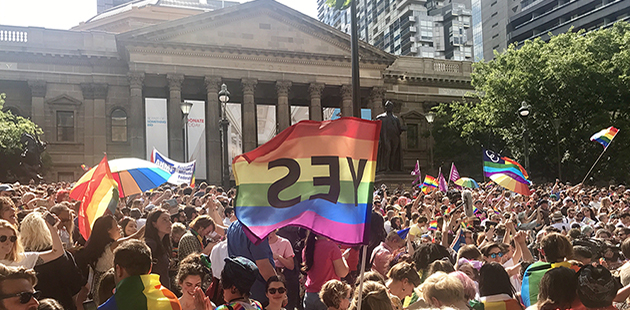 An announcement today by the Australian Bureau of Statistics (ABS) that the majority of Australians voting in the Marriage Equality poll support same-sex marriage has been embraced by Gay and Lesbian Tourism Australia (GALTA) who anticipate a boost to tourism once the Australian Marriage Act is amended.
President of GALTA, Mario Paez said the result was cause for celebration not only for the LGBTIQ community in Australia, but also for the tourism industry which stands to benefit from a likely increase in destination weddings and honeymoons.
"So many same-sex couples have been waiting for change so they can marry and celebrate their love with family and friends and we anticipate that this long-awaited amendment to the Marriage Act will see an increase in tourism driven by weddings and honeymoon travel," said Mr Paez.
"We know that weddings drive tourism spend in cities and regions, with a range of suppliers benefitting and multi-day travel boosted by friends and family members travelling to be part of the celebrations."
"Today's announcement is great news for our community and great news for tourism and GALTA looks forward to helping drive opportunities for our members in reaching same-sex couples finally able to plan their special day."
For more information, visit: www.visitgayaustralia.com.au for details.
Image: Melbourne YES Rally at State Library Victoria (supplied)