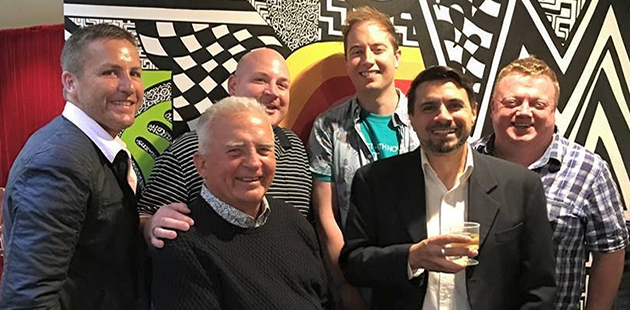 Australia's lead LGBT travel body, Gay and Lesbian Tourism Australia (GALTA), has cemented a year of proactive change with new leadership at its recent Annual General Meeting held in Adelaide during the city's Feast Festival.
Following a host of new initiatives in 2016, including a new corporate and consumer brand and the unveiling of a dynamic Visit Gay Australia website and social channels, GALTA has paid tribute to outgoing President Rod Stringer and welcomed Mario Paez to the position.
Mr Paez, co-Director of Planetdwellers – a leading tour and travel operator for LGBT visitors based in Sydney, has been a long-time member of GALTA and joined the Board in 2012. He has previously held the role of Treasurer and Vice President for the association and said that he is excited to be part of the reinvigorated focus of the Board and its Directors.
"GALTA has achieved a great deal in the past 12 months in particular, refreshing its profile and developing some strong consumer marketing avenues, and I'm incredibly proud to be part of the association's future growth," said Mr Paez. "During Melbourne's Midsumma Festival earlier in the year we launched our new corporate brand along with a consumer platform, Visit Gay Australia, which allows us to more easily connect our members to potential visitors."
"We followed this with the launch of new social media channels for Visit Gay Australia across Facebook, Instagram and Twitter at the Sydney Gay & Lesbian Mardi Gras. The new consumer website, www.visitgayaustralia.com.au, was then unveiled at one of the world's largest tourism and travel industry events, the Australian Tourism Exchange, held in May this year on the Gold Coast."
"GALTA also has had a strong focus on talking directly to consumers, attending key city and regional events throughout the year to promote our wide diversity of members."
"During 2016, GALTA members were promoted at almost 20 major LGBT festivals across Australia, New Zealand and the USA as well as in Cape Town. We had the opportunity to speak face-to-face with thousands of people looking for Australian holiday ideas and inspiration, a great way to promote member businesses."
"In 2017 we will continue building on these achievements by developing more tangible benefits for members via our media and marketing partnerships. A greater focus on digital and social media promotions will also enhance the positioning of Australia as a preferred holiday destination for LGBT visitors from around the world."
"We're also excited to be celebrating 25 years of GALTA next year and will be planning special celebrations at the 2017 AGM with original founders, past and present Board members and members all invited."
Mr Paez also expressed gratitude and appreciation to outgoing President Rod Stringer, a revered figure in the LGBT community and travel industry.
"Significant applause is due to Rod Stringer who has been actively involved with the Board of GALTA for over 20 years, and as President since 2011, deservedly receiving a lifetime GALTA membership at the AGM and the respect of all in the tourism industry," added Mr Paez.
For more information, visit: www.visitgayaustralia.com.au for details.
Image: GALTA Board Members and Representatives in Adelaide recently (supplied)