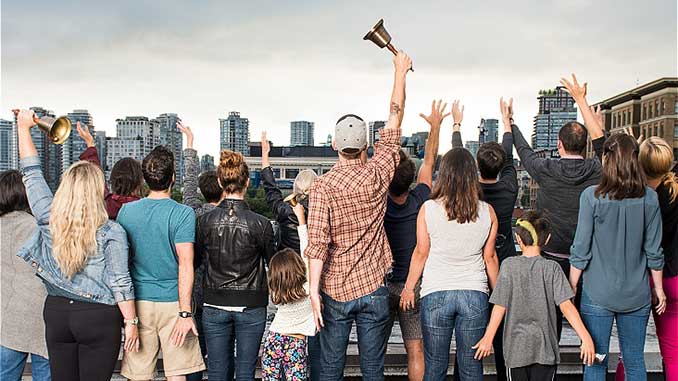 The Melbourne Fringe Festival returns in 2021 with the largest program in the event's history – a testament to the resilience of Victoria's independent arts scene after a supremely challenging 18 months.
From 30 September to 17 October over 2,500 of the country's established and emerging artists, actors, comedians, musicians, dancers, DJs and designers and will once again take over Australia's cultural capital for two and a half weeks of boundary-pushing, experimental and formidably fabulous art.
This year's Festival will go ahead regardless of lockdowns. Over 10% of the Festival is digital and happening online, joined by a vast line-up of other exciting events that can be experienced even in lockdown or other restrictions – art that is home-delivered, experienced in public places, or enjoyed via audio download.
This year's Festival is a testament to the resilience of Melbourne's local independent artists and creatives, celebrating their ability to continue to innovate and imagine in the face of the turbulence of the last 18 months.
For many artists, this Festival will be their first chance to respond after being unable to express their voice and their craft for months on end, with plenty of shows emerging with stories, ideas and bones to pick borne out of the pandemic.
"Victoria's independent artists have proven themselves to be perhaps the most resilient and innovative in the world," explains Melbourne Fringe Creative Director & CEO, Simon Abrahams.
"At a time when artists are working under such extreme circumstances, it is extraordinary to see the community galvanise to create a Festival that is innovative, wild and celebratory."
"I'm thrilled with the calibre of work that's been created. The need for Melbourne Fringe's work has never been greater and I know audiences need this Festival now more than ever."
In 2021, Victoria's longest-running multi-arts festival has more events than ever before, so prepare for the sublime, the unexpected and the political because Victoria's independent artists are going to make some noise!
This record number of 470 events will land in hundreds of venues across the city (and regionally) occupying theatres, bars and backyards, bringing experimental, avant-garde art events and parties of every flavour imaginable.
As always, the Festival boasts an incomparably diverse program of theatre, dance, music, visual arts, circus, cabaret and experimental arts, taking place in the real world and online.
Themes of community, protest, feminism, climate change, identity and even multiple shows celebrating the delicious dumpling fill the program with new ideas that are both challenging and celebratory.
The climate crisis has informed the Festival's signature public art installation, Groundswell by Melbourne percussion artist Matthias Schack-Arnott.
Similar global themes will be crystalised in the voices at Town Choir – a 200-strong outdoor choir singing words live as they are written by some of Melbourne's best writers.
After pulling off a festival featuring hundreds of digital events during and emerging from lockdown last year, Melbourne Fringe remains committed to pushing the boundaries of artforms through digital integration.
One of the signature events this year, Fringe Focus Taiwan, sees Taiwan's best emerging and experimental virtual reality artists give audiences the experience of a Taiwanese holiday right here from a bar in Melbourne.
The Festival remains committed to delivering a program that is accessible to everyone, artists and audiences alike. This years' Festival sees 11.7% of the registrations represent Deaf and Disabled artists.
Melbourne Fringe Festival provides a platform for voices from the margins to express new ideas, push the limits and foster discussion about the things we need to be talking about.
"We are so proud to showcase such as diverse program, with large numbers of First Nations, Deaf and disabled and LGBTQIA+ artists represented. Our team has worked to make a festival full of impactful, beautiful and revelatory art for audiences to discover," said Simon Abrahams.
Melbourne Fringe's hallmark avant-garde design exhibition turns 35 in 2021, with a new name and a new home. Fringe Furniture has evolved and expanded to become Design Fringe – a new exhibition celebrating Melbourne's extraordinary independent and emerging designers.
Design Fringe will host an expanded program and has now reached gender parity within the program, setting the standard for the industry at large. Melbourne Fringe Festival events appear in unexpected places.
From Melbourne's theatres, bars and galleries across the city; to pop up circus tents, small bookshops, street corners, and even people's bedrooms. The Festival Hub also sees Melbourne's historic Trades Hall transform into a glittering, community hub to artists and audiences alike – a place where every artform imaginable intertwines and intermingles under the one roof.
Beyond the 450+ open access artist events, Melbourne Fringe also produces a series of signature events (see below) which include large scale public artworks, design exhibitions, concerts, films and more.
This year's Festival's theme of "make some noise" speaks to Melbourne Fringe's commitment to empower anyone to realise their right to creative expression. The Melbourne Fringe Festival is a place where surprising and cutting-edge work gets its first public viewing and is the birthplace of some the biggest names in art and entertainment.
The tiniest sample of Melbourne Fringe alumni includes: Jane Campion, Hannah Gadsby, Rachel Griffiths, Sammy J, Judith Lucy, Tim Minchin, Charlie Pickering, Christos Tsiolkas, Megan Washington, Stella Young, and countless more.
The 2021 Melbourne Fringe Festival runs 30 September to 17 October. For more information, visit: www.melbournefringe.com.au for details.
Image: Town Choir – courtesy of Melbourne Fringe
---
2021 Melbourne Fringe Festival signature events include:
Groundswell
Friday 8 October – Sunday 17 October
A large-scale participatory experience and giant playable musical instrument from leading Melbourne musician, Matthias Schack-Arnott, exploring how every step we take has an impact on our planet. Taking over Queensbridge Square and open to anyone, Groundswell invites you to take a step onto its surface and explore. As you (and your fellow participants) shift and move the work does too, with thousands of ball bearings rushing underfoot to create a visceral wash of sound and movement beneath you. It's an ever-changing, immersive and evocative experience that sees you in conversation with the space around you.
Town Choir
Saturday 9 October – 11:00am & 1:00pm
A musical event that reframes everyday observations as epic, choral declarations. As texts are produced live by acclaimed local writers Alistair Baldwin, Nayuka Gorrie and Michele Lee, they are immediately sung out to the public by an enormous, outdoor choir assembled in Prahran Square in glorious, four-part harmony. Town Choir examines the intimate and minute experiences of individual Australians and takes them to monumental proportions, celebrating the singular voice through the power of the collective. It's beautiful, it's powerful and it's poignant. An unmissable, uplifting experience.
Fringe Focus Taiwan
Fringe brings Taiwan's best emerging and experimental virtual reality artists to one of Melbourne's best bars. For Melbourne Fringe, Loop Project Space & Bar will be transformed into a VR Taiwanese art party thanks to a handful of Taiwan's most ground-breaking contemporary digital artists. Fringe Focus Taiwan is a live VR experience, where you can sip cocktails, whack on a headset, and watch some wild Taiwanese VR films and digital art. Guaranteed to be the best overseas trip you'll have had in two years.
Festival Hub
30 September – 17 October
In the beating heart of Trades Hall, the Festival Hub has something for everyone. It is varied, versatile and it's a very good place to belong. All are welcome to enjoy over 100 performances of every kind, within venues of every size. In rooms both vast and intimate there's something for every taste; and it's all delectable. With audience bars, artists hangouts, intimate corners and the banging Club Fringe – the only reason to leave Festival Hub is to go to bed.
Deadly Fringe
Melbourne Fringe's game changing First Nations commissioning and support program full of Deadly talent producing incredible performances and gallery works. Deadly Fringe is committed to centring First Nations voices and perspectives. This year's line-up is powerful mix of political works including: Minyerra, a night of music and spoken word by Neil Morris; two gallery commissions by artists, Nicole Monks Madison Conners; WARRIORS R OUSSS!!! – a self-defence dojo experience exploring Australian power dynamics; and Of the Land On Which We Meet a spiritual circus work by Harly Mann; plus, so much more deadly talent.
Design Fringe
30 September – 17 October
Celebrate Melbourne Fringe's iconic, avant-garde furniture exhibition turning 35, it has a new name and a new home. Fringe Furniture has evolved and expanded to become Design Fringe – a new exhibition celebrating Melbourne's extraordinary independent and emerging designers as well as the ground-breaking, bizarre and impractical works they produce. Operating for an extended period of three months at its new home at Linden New Art, plus an exciting, curated collection at the Victorian Pride Centre during the Festival dates, Design Fringe will host an expanded program of events including panel discussions on accessibility, gender and sustainability in design; artist conversations, tours and more.
Melbourne Fringe Story Bank
30 September – 17 October
Next year, Melbourne Fringe is turning the big 4-0 and we're going to celebrate in fierce and Fringey fashion. Melbourne Fringe is its people: the millions of audiences, tens of thousands of artists and thousands of staff that have shaped the last four decades. So, we're inviting you to share your most vivid Fringe memories now to help us build a big project we have planned for 2022. Whatever your story, big or small, profound or mundane, we want to hear it.
XS
Melbourne Fringe's thought-provoking, fun and fabulous art event series for kids – where little kids doesn't mean small minds. XS is big ideas for little minds, where kids and families explore, play and expand their perceptions of the world through art. Big, bold topics are covered in kids' tea party roundtable Chatterbox; a quieter art experience can be found in the giant woven tapestry that is Threads; the instruments of children's imaginations are created then played in Kistruments, a collaboration with the Melbourne International Jazz Festival; and award-winning queer variety cabaret sensations, YUMMY Are presenting their first ever kids show exploring gender in a drag circus extravaganza.
We Built This City
Thursday 30 September – Saturday 2 October
This giant cardboard wonderland of a construction site by Polyglot Theatre brings communities together to think big and build the cities and towns of their dreams. Filled with thousands and thousands of cardboard boxes, a DJ and "construction workers" to help kids follow their impulses, families are invited to come together to create a unique city within the heart of our very own. And at the end of it all, like a giant sandcastle, the city is shaken and stomped to the ground.
Springboard
Supports our burgeoning circus sector to foster artistic potential and create new, innovative works. Following over a year in development, four circus productions by independent artists are ready to meet Melbourne audiences. Springboard is a place to see world-class, boundary pushing performances from artists at the top of their game.