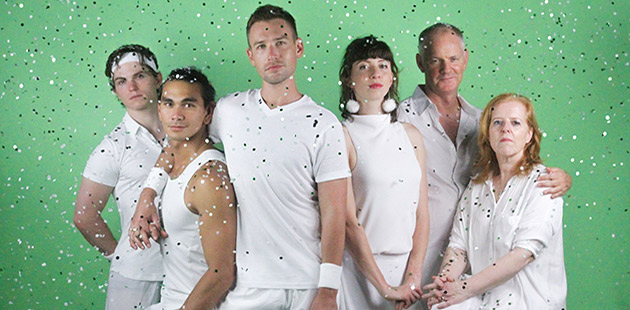 A fast-paced comedy about tennis and open relationships, fresh-faced queer indie theatre outfit, bub, presents the world premiere of Angus Cameron's Australian Open at the Kings Cross Theatre from 19 February 2020.
It's Felix's 31st Birthday, but all his parents want to talk about over dinner is his boyfriend Lucas' loss to Rodger Federer in the American Open the night before. That is until Felix mentions that he and Lucas plan to continue their open relationship even if they decide to get married – a backhand smash that kicks off a debauched game of doubles.
In the lead up to the Australian Open, the two couples have to learn to play nice and maybe even … listen? … to each other. Then again, once you're let into the club you've got to play by the rules, right? Or is this truly the end to the sacred institution, which has definitely remained unchanged since, like, forever?
"Australian Open was developed through Melbourne Theatre Company's CYBEC Electric program, and I am thrilled it has found a home at KXT," said playwright Angus Cameron. "It's a fast and funny comedy that skewers both progressive and conservative ideas about what a relationship looks like, and asks, now that we have gay marriage, what's next?"
Directed by Riley Spadaro and featuring an all-star cast including Di Adams (Trevor), Miranda Daughtry (Things I Know to Be True), Patrick Jhanur (Single Asian Female, Banging Denmark), Tom Anson Mesker (A Taste of Honey) and Gerard Carroll (Once), prepare yourself for an intergenerational grand slam that will leave you in stitches.
"I'm a sucker for a rom-com, and Angus Cameron's Australian Open is one of the sharpest I have read in recent memory," said director Riley Spadaro. "Its politics are subtle and playful, and it's starring some of Sydney's hottest property. I'm wildly out of my depth, but I think it's going to be a slam dunk… or a grand slam. Whichever sporting metaphor is more appropriate."
Director: Riley Spadaro Featuring: Di Adams, Gerard Carroll, Miranda Daughtry, Patrick Jhanur, Tom Anson Mesker, Tom Russell Set and Costume Designer: Grace Deacon Lighting Designer: Phoebe Pilcher Composer and Sound Designer: Alex Turley Stage Manager: Eve Norris Writer: Angus Cameron
---
Australian Open
Kings Cross Theatre – Kings Cross Hotel, 244 – 248 William Street, Potts Point (Sydney)
Season: 19 – 29 February 2020
Information and Bookings: www.presentedbybub.com
Image: The Cast of Australian Open – photo by Hannah-Rae Meegan