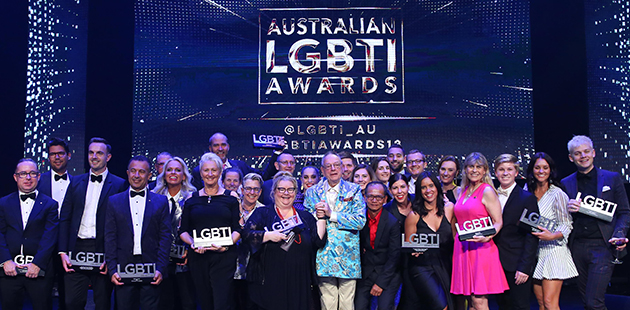 Comedian Hannah Gadsby, Wallabies star David Pocock, Singer Kira Puru and former SBS CEO Michael Ebeid are just some of the names nominated for Australia's biggest awards dedicated to celebrating the LGBTI community and their allies, the 2019 Australian LGBTI Awards.
Over 2000 people were nominated across 18 categories, including International and Local Icon of the year, Sports Personality, Ally, Brand and Marketing Campaign, Community Initiative/Charity and Inspirational Role Model.
Two new categories have been added for the 3rd annual awards; Artist and Faith. The Artist Award highlights the cultural work done to keep LGBTQI issues visible in the arts. Our Finalists include Theatre Directors, Authors, Drag Performers, Photographers, Film Directors, Comedians and Visual Artists. The Faith category acknowledges the inspiring work done by individuals and religious organisations to improve homophobic attitudes within religious organisations.
The 2018 LGBTI Awards saw a star-studded list of community leaders, celebrities and organisations coming out for the celebrations, including the likes of Lea DeLaria, Yael Stone, Danielle Brooks, Lucy Lawless, Magda Szubanski, Joel Creasey, Ollie Henderson, and Jordan Raskopoulos.
"The most exciting part of the Finalists process is that every year we see new people and new organisations who have made an impact over the last 12 month, in a positive way," said Australian LGBTI Awards Director, Silke Bader "Celebrating those involved in the marriage equality campaign was a big part of last year's event. This year with the awards we wanted to shine a light on other areas where positive role models are making a difference."
"The faith category is a great example of this. There are many individuals and religious organisations that really stand up to fight for the recognition and acceptance for their LGBTQI community members and we felt it important to recognise that this year," added Bader.
There are two main groups to the awards, the Public Award Category and the Corporate Award Category. The Public Award categories are entirely decided by the public vote. Voting for the shortlisted nominees is now open!
Winners will be announced at a special red carpet gala dinner on Friday 1 March 2019 at The Star, Sydney. For more information and Shortlist of Nominees, visit: www.australianlgbtiawards.com.au for details.
Image: Recipients of Australian LGBTI Awards 2018 (supplied)