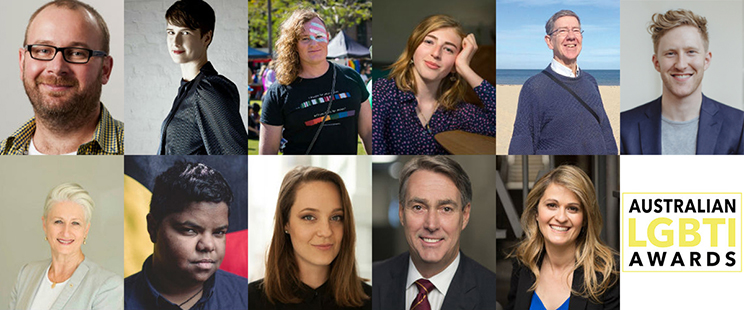 After a hugely successful event in 2017, Australia's biggest awards dedicated to celebrating the LGBTI community and their allies, the Australian LGBTI Awards have announced their 2018 shortlist.
Over 6,000 people were nominated across 16 categories, including Celebrity of the Year, Sports Personality of the Year, Ally, Brand and Marketing Campaign, Community Initiative/Charity and Inspirational Role Model. Winners will be announced at a special red carpet gala dinner on Friday 2 March 2018 at The Star, Sydney.
"2017 has been a rough year for the LGBTI community, we've had the legitimacy of our relationships debated in the public domain for months, advertisements and posters spreading hate and lies and the entire nation voting on our rights to marry, so the Australian LGBTI Awards are an opportunity for us to celebrate one another, our achievements and supporters," said Australian LGBTI Awards Director, Silke Bader.
The Australian LGBTI Awards is a chance to say thank you to esteemed individuals and to celebrate the diverse community that we have in Australia. The more members of the LGBTI community that vote, the better the awards will reflect the community – voting closes 31 December 2017.
For more information about the Australian LGBTI Awards and to vote, visit: www.australianlgbtiawards.com.au for details.
Image: Shortlisted Hero Nominees – (top) Alastair Lawrie, Anna Brown, Bridget Clinch, Georgie Stone, Jamie Gardiner and Jason Ball; (bottom) Kerryn Phelps, Taz Clay, Sally Rugg, Sean Linkson and Shirleene Robinson (supplied)
---
Nominees on the Australian LGBTI Awards 2018 shortlist are:
PUBLIC VOTING:
ALLY
Bindi Irwin
Christine Anu
David Campbell
Frances Abbott
Hugo Weaving
Kyle Sandilands
Laurelle Mellet
Ricki-Lee Coulter
Samuel Johnson
Sue Hickey
BRAND
American Airlines
Amazon
Bloomberg
Foxtel
Facebook
Levi's
Qantas
Mastercard
Netflix
SBS
COMMUNITY INITIATIVE
AFL's Pride Game
ACT AIDS ACTION COUNCIL
Headspace
Open Door
Pinnacle
Rainbow Family
RU OK
Safe Schools
Stand Up Events
Transcent
DESTINATION
Britain
Canada
Ireland
Las Vegas
Los Angeles
NYC
St Kilda
Queenstown
Thailand
Vienna
FILM, TV & WEBSERIES
A Place To Call Home
Herstory with Courtney Act
Deep Water
Grace and Frankie
The Horizon Web Series
Janet King
Orange is the new Black
Starting from Now
When We Rise
Wentworth
HERO
Alastair Lawrie
Anna Brown
Bridget Clinch
Georgie Stone
Jamie Gardiner
Jason Ball
Kerryn Phelps
Sally Rugg
Sean Linkson
Shirleene Robinson
Taz Clay
INTERNATIONAL ICON
Anthony Bowens
Alan Cumming
Caitlyn Jenner
Conchita Wurst
Daniel Newman
Heather Peace
Lucy Lawless
Martina Navratilova
Ricky Martin
Tegan and Sarah
LGBTI CELEBRITY
Carlotta
Hannah Gadsby
Harry Cook
Jordon Raskopoulos
Josh Thomas
Magda Szubanski
Mark Trevorrow
Pam Ann
Ruby Rose
Richard Reid
MARKETING CAMPAIGN
Airbnb
Audible
Converse
MTV
General Pants
Lush
Medibank Private
Qantas
Southern Cross Austereo
YMCA
MUSIC ARTIST
Beccy Cole
Ben Hazelwood
Brandan Maclean
Courtney Act
Greg Gould
Jonathan Welch
Kathleen McGuire
Luke Antony
Monique Brumby
The Veronicas
Troye Sivan
ORGANISATION
Accor Hotels
Brown-Forman
Dowson Turco
Holden Australia
Key Assets
Life without Barriers
Lqd Skin Care
Oaks hotels and resorts
Rainbow Fertility
Sparkke
POLITICIAN
Alex Greenwich
Chansey Paech
Christine Forster
Dean Smith
Janet Rice
Jenny Loeng
Louise Pratt
Penny Wong
Tanya Plibersek
Tim Wilson
PRESENTER
Andrew Guy
Anton Enus
Benjamin Law
Fran Kelly
Jason Shipston
Joel Carnegie
Joel Creasey
Jonathan Moran
Julie McCrossin
Patrick Abboud
SPORTS PERSONALITY
Alex Blackwell
Casey Dellacque
Erin Philips
Hayley Bateup
Jason Ball
Ji Wallace
Mianne Bagger
Matthew MItcham
Michelle Heyman
Simon Dunn
PANEL OF JUDGES:
DIVERSITY CHAMPION
Andrew Parker – Qantas
Gemma Saunders – Medibank
Georgie Harman – Beyond Blue
Jason Whitty – CBA
Louise Daley – ACCOR
Mark Henry – Maddocks
Paul Zahra – PwC
Peter Wilson – Green Hill
Ross Wetherbee – CBA
Steve Jacques – Key Assets
INSPIRATIONAL ROLE MODEL
Alan Joyce – Qantas
Frank Costigan – YOUI
Geoff Selig – IVE
Jennifer Westacott – Business Council of Australia
John Caldwell – RWR
Michael Ebeid – SBS
Moya Dodd – Gilbert and Tobin
Nick Di'Lodovico – REA
Sally Auld – JP Morgan
Tom Snow & Brooke Horne- Equality Campaign
LGBTI EMPLOYEE NETWORK
Accenture – PrideAtAcenture
Ashurst – Spectrum
A.T. Kearney's- GALA Network
Australian Taxation Office – Workplace Diversity
Australia Post – Post Pride
Department of Agriculture and Water – LGBTI Pride Network
Maddocks – Maddocks Pride
Medibank – Passion and Pride Network
Queensland Police – Queensland Police Service LGBTI Support Network
Westpac – Global
LIFETIME ACHIEVEMENT AWARD