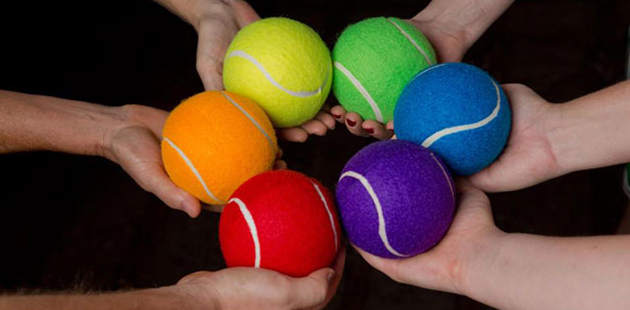 Sporting identities, clubs and codes across the country will gather in Melbourne in June for the inaugural Australian Pride in Sport Awards to celebrate outstanding achievements in LGBTI inclusion in Australian sport, both on and off the field.
The Australian Pride in Sport Awards is the first celebration of its kind dedicated solely to recognising exceptional efforts in making sport more inclusive of LGBTI people. It is produced by Pride in Sport, the national not-for-profit sporting inclusion program spearheaded by Australia's largest LGBTI health organisation ACON.
To be held on Tuesday 19 June 2018 at Showtime Events Centre in Melbourne, the Australian Pride in Sport Awards will honour athletes, employees and organisations as it showcases the results of the Pride in Sport Index (PSI) – the national benchmarking instrument used to assess LGBTI inclusion within Australian sport.
Launched in 2016, the PSI was developed in conjunction with the Australian Human Rights Commission, the Australian Sports Commission and Bingham Cup Sydney, alongside an advisory group comprising representatives from a range of peak sporting bodies including the National Rugby League, the Australian Football League, the Australian Rugby Union and Football Federation Australia. The PSI allows sporting organisations and clubs to benchmark their LGBTI inclusive policies and practices annually and receive feedback that will inform their work over the following year.
The Australian Pride in Sport Awards will feature a host of leading sporting and community figures, including Pride in Sport patrons Alex Blackwell, the world's most successful female cricketer, and former Olympic swimmer Daniel Kowalski. Funds raised from the awards will support efforts making Australian sports inclusive of LGBTI communities.
"Homophobia and transphobia are unacceptable, there is simply no place for it in Australia, including in sport," said Mr Kowalski. "Sport can facilitate social change and, in recognising the results of the PSI, the awards are an opportunity for organisations to emphasise the work being done in promoting LGBTI inclusiveness in sport."
"Australian sport is a place for all Australians. I believe that the awards and the index will play an important role in supporting our collective efforts to eradicate anti-LGBTI prejudice in Australian sport," added Mr Kowalski.
ACON Vice President and Co-Founder of the Pride in Sport Index, Andrew Purchas, said the awards builds on ongoing work in making sporting arenas, fields, pools and courts more inclusive. "In 2014, Australia's major sporting codes signed up to the Australian Anti Homophobia and Inclusion Framework for Australian Sport," said Mr Purchas.
"These awards continue this important work as they will provide sporting organisations with an opportunity to reflect on their work in the inclusion of LGBTI participants and staff, and identify areas they can address to ensure their sport is truly inclusive."
"Unfortunately, negative comments about the LGBTI community were made in the media recently by a leading sportsperson. This demonstrates just how important initiatives such as the Pride in Sport Index and events like the Australian Pride in Sport Awards are."
"Thankfully, many of Australia's sporting organisations are recognising positive steps need to be taken to ensure your sexuality, gender identity or intersex status does not impact your ability to play, watch or be involved with sport at any level. The Pride in Sport Awards allows us to celebrate the outstanding achievements of clubs and individuals in improving and promoting LGBTI inclusion within Australian sport," added Mr Purchas.
The Australian Pride in Sport Awards will take place on Tuesday 19 June 2018 at Showtime Events Centre in Melbourne. Click here to book tickets. For more information, visit: www.prideinclusionprograms.com.au for details.