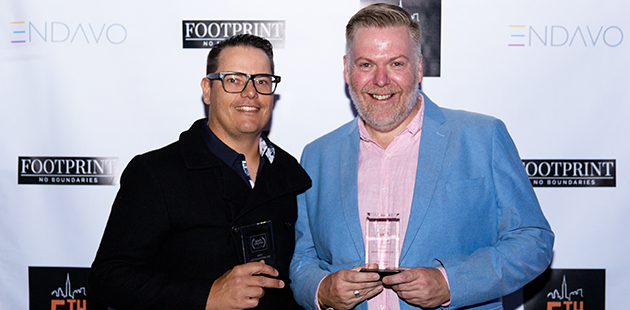 Sydney web series, After Nightfall has been selected for film festivals all over the world, winning numerous awards. Over the past two weeks, the series had even more good news in the US. After Nightfall took home awards at the Baltimore New Media Web Fest and the NYC Web Fest.
Writer, Director and Producer, Wayne Tunks headed to Baltimore earlier this month to accept the award, and then was joined in New York by Producer and Director of Photography, Nicholas Price. Also joining them in New York was award nominated Sound Designer, Peter Johnson, and actress Jacinta Moses, who plays the role of Justine McLeavey.
In Baltimore the series was awarded Best Thriller Web Series and Best Cinematography (Drama) for Nicholas Price. In New York, the series won the Best Mystery / Thriller Web Series award. Since returning home, the series has also won Best Web Series at the Changing Face International Film Festival in Cronulla, and last Saturday it won Best Sound Design for Peter Johnson at the Made in the West Film Festival in Liverpool.
After Nightfall is a six part murder mystery that asks the question, who killed Troy McLeavey? When an 18 year old boy from a small town is murdered, everyone is a suspect. His family, his drug dealing Uncle, his boyfriend, his ex-boyfriend and conservative parents, the town thug and the sleazy local bookshop owner. But just who killed Troy McLeavey?
Season two of the series has recently finished shooting and will be released in the first half of 2019. The team will also be shooting their first feature film in January next year, an adaption of Tunks' critically acclaimed stage play, According to Otto.
"When you make a small web series independently, you're not sure if you'll find an audience," said Tunks, "It's pretty exciting that people are not only watching and enjoying the series, but we are being honoured with awards. It feels very special".
After Nightfall Series One can be viewed at: www.afternightfallseries.com
Image: Nicholas Price and Wayne Tunks – photo by Ramon Mercado