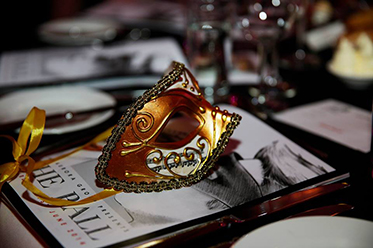 In a sparkling and glamorous evening with over 450 guests, the Aurora Ball on Saturday 21 June raised more than $60 000, which will fund grants to organisations supporting the GLBT community in NSW.
Held at Sydney Town Hall, the evening was hosted by Joel Creasey, with an eloquent and candid keynote address by Group Captain Catherine McGregor.
In true Aurora Ball style, guests made a magnificent effort dressed in fabulous masks and a black and white theme, while being entertained throughout the evening by a smorgasbord of performers including Phil Scott, Blake Bowden, the Sydney Gay and Lesbian Choir, Darren Mapes, Brendan Hay, Debora Krizak and Jacinta Gulisano.
"Organisations like Aurora are still so vital in assisting our LGBT community groups, providing grants for projects that, without the assistance of such grants, would never get off the ground, says Aurora Chair Adam Niewand. "By giving to Aurora, you are giving to all those community groups who need it most."
The small grants program will open to community groups and allocated later in 2014, while the 2015 Aurora Ball will be held on Saturday 20 June at Sydney Town Hall. For more information, visit: www.auroragroup.com.au for details.
Photos of the 2014 Aurora Ball can be viewed at: www.facebook.com/TheAuroraGroup.
Image: courtesy of The Aurora Group