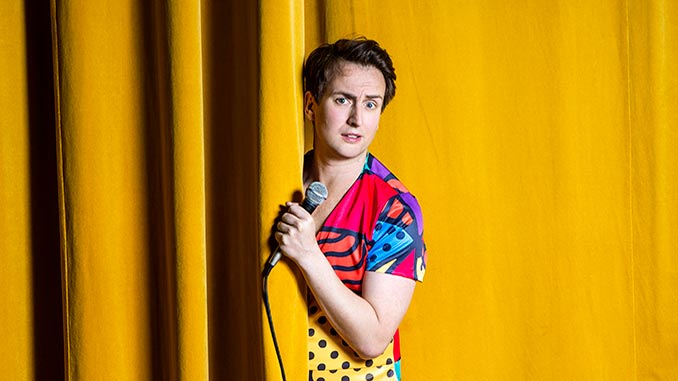 Having wowed audiences at the Brunswick Ballroom Opening Gala earlier this year, multi award-winning writer and performer Ash Flanders returns this July with Ash Flanders is Nothing.
Taking us on a profoundly funny freewheeling time-traveling journey like no other, Ash Flanders is Nothing mixes storytelling with song and comedy with tragedy – because when life is this gleefully punishing, the material just writes itself.
"After burning the stage to the ground at the Opening Gala, the Brunswick Ballroom practically begged me to return with a new show, but when negotiations turned nasty they insisted on picking the title. So I guess I'll see you at Ash Flanders is Nothing!" says Flanders of his upcoming performances.
Melbourne's most dynamic and exciting performance venue, the Brunswick Ballroom offers patrons the chance to experience music, cabaret and comedy alongside wonderful food and wine.
The cabaret line up at the venue is curated by theatrical producer Liza McLean from Tinderbox Productions. "Brunswick Ballroom is a brilliant new venue in the heart of arguably one of Melbourne's most thriving artistic communities, it is a pleasure to be curating the Cabaret and Theatre events at this magnificent venue and we hope audiences enjoy their first taste of what's to come," says McLean.
The Brunswick Ballroom is a fully accessible venue seating up to 300 people, combining the best of London's legendary Ronnie Scott's Jazz Club and New York City institution Joe's Pub with Melbourne's own 1990's icon, The Continental Café, bringing style back to Melbourne's music scene.
Ash Flanders is a multi award-winning writer and performer. His solo work includes End Of, Playing to Win, Ash Flanders is Nothing, Special Victim, Meme Girls and Negative Energy Inc. all directed with long-time collaborator Stephen Nicolazzo.
He and Declan Greene create theatre under the name Sisters Grimm with Ash also performing in Little Mercy (STC), The Sovereign Wife (MTC Neon), Calpurnia Descending (Malthouse Theatre/STC), Lilith: The Jungle Girl (MTC) and an adaptation of Verdi's La Traviata (Belvoir).
As an actor he has been seen in the solo show Buyer & Cellar (MTC), Blackie Blackie Brown (Malthouse / STC),  Adena Jacobs' Hedda (Belvoir), The Temple (Malthouse / Pan Pan Theatre), The Golden Dragon (MTC) and Psycho Beach Party (Little Ones Theatre).
---
Ash Flanders is Nothing
Brunswick Ballroom, 314 – 316 Sydney Road, Brunswick
Performances: 1 & 8 July 2021
Information and Bookings: www.brunswickballroom.com.au
Image: Ash Flanders – photo by Pia Johnson