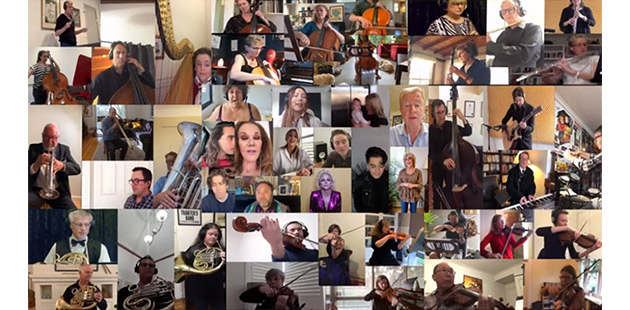 As a response to the devastation that COVID-19 is having on the arts and entertainment industry, John Foreman's Aussie Pops Orchestra and friends have "phoned in" an isolation orchestra performance of What A Wonderful World, made famous by Louis Armstrong, to raise awareness of music industry charity Support Act.
Some of Australia's best-known performers who feature in What A Wonderful World are: Dami Im, Harrison Craig, Isaiah Firebrace, Silvie Paladino, Courtney Act, Rhonda Burchmore, Maria Venuti, Sheldon Riley, Lucy Durack, Trevor Ashley, Aydan Calafiore, Bert and Patti Newton, Casey Donovan, Denis Walter and the Aussie Pops Orchestra led by John Foreman.
"This rotten virus has affected everyone, but the impact on the arts community has been particular severe, with concerts, tours, theatre shows and so much more, all suddenly cancelled," said John Foreman. "But in spite of this, the brilliant musicians of the Aussie Pops Orchestra and the amazing, wonderful guest artists didn't hesitate to phone in their parts."
"We really hope this song will brighten your day and draw attention to the wonderful work of Support Act," he added.
"This is the perfect message for the times, delivered in the perfect way," said Clive Miller, CEO, Support Act. "We applaud John, the Orchestra and the performers for brightening our day with this wonderful song and for reminding us of the importance of live performance and looking out for each other."
Support Act is Australia's only charity delivering crisis relief services to artists, crew and music workers as a result of ill health, injury, a mental health problem, or some other crisis that impacts on their ability to work in music. For more information and to donate to Support Act, visit: www.supportact.org.au for details.
For over 30 years, the Aussie Pops Orchestra has presented a unique blend of popular classical and contemporary music to Australian audiences. Now owned by musical director, pianist and composer John Foreman, it is one of a few privately managed symphony orchestras in the world.
The orchestra has performed alongside many of the world's favourite singers including Luciano Pavarotti, Dame Kiri Te Kanawa, Peter Allen, Andrea Bocelli, Dame Joan Sutherland, Sir Cliff Richard and Ray Charles. Their New Year's Eve concert has become an Australian tradition. For more information, visit: www.apoconcerts.com for details.
Image: The Aussie Pops Orchestra and Artists featured in What A Wonderful World (supplied)