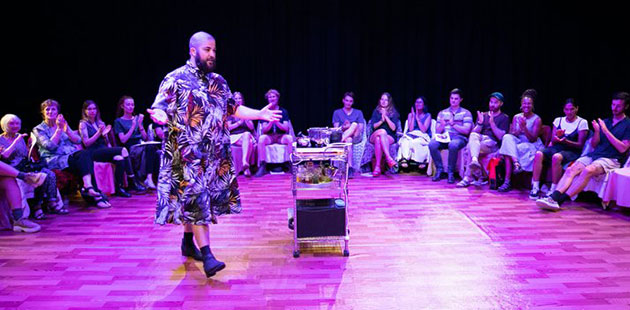 Performance Space and partners Sydney Gay and Lesbian Mardi Gras, PACT and Moogahlin Performing Arts have announced the Queer Development Program Artists for 2020/2021.
Now in its ninth year, Performance Space's Queer Development Program builds and strengthens queer creativity and performance in Australia. Unique in Australia, the Queer Development Program provides opportunities for emerging queer artists to develop their creative skills, performance ideas and industry connections.
Through this program, queer artists can build more sustainable practices and explore new ways of making work. Intergenerational and community exchange is at the heart of the Queer Development Program. The Queer Development Program has three streams – the Stephen Cummins Residency, the Queer Workshop Intensive and the public-facing performance night: Queer Nu Werk.
Stephen Cummins Residency:
A two-week residency designed to enable a queer artist or collective to make significant progress towards creating a new performance work. The development process is overseen and facilitated by an experienced mentor nomiated by the successful artist.
The Stephen Cummins Residency artist for 2020/21 is Perth-based artist Daley Rangi who has nominated Victoria Hunt as their mentor. Takatapui is a participatory performance work unearthing the transgenerational and collective trauma of colonisation, and the relentless journey to reclaiming sovereignty of body, mind and soul.
Daley Rangi is an eclectic multidisciplinary artist generating unpredictable and uncomfortable works. Evading categorisation and invading the status quo, their energies are focused on speaking truth to power and encouraging social change.
---
Queer Workshop Intensive:
A week-long program in which artists are led through a series of skills-building workshops by experienced LGBTQIA+ artist facilitators. Workshops introduce various methodologies for creating performance in a collaborative environment, focusing on sharpening participant's creative and professional skills in addition to connecting them with an intergenerational community of facilitators.
These facilitators provide diverse voices across the queer community and share their skills and experience in creating queer work. This direct contact with established LGBTQIA+ artists provides a unique opportunity for artists to develop their practice, learn new ways of making and experiment with new ideas alongside their community.
Queer Workshop Intensive artists for 2020/21 include: Dyan Tai, Rachel Perks, Justine Youssef, Rowan Savage, Bear Baxter, Demon Derriere, Cheryn Frost, Solomon Frank, Sam Huxtable and Najee Tannous.
Dyan Tai is a music producer, singer, songwriter and live performance artist interested in creating space for conversations about diversity, culture and QTPOC visibility. Dyan is currently a resident performer and DJ at The Imperial Hotel, Poof Doof and Oxford St and also performs regularly in cabaret shows, queer parties and venues (Tropical Fruits, Bearded Tit, Oyster Club, Heaps Gay).
Dyan created and produced WORSHIP – a performance and dance party celebrating diverse identity, cultural and spiritual practices. He was also part of the curating team for the successful Queer Lunar New Year Party and Queer Asian Stories. He is currently a guest presenter on 2SER's So Hot Right Now and used to host and produce a radio show on Melbourne's JOY FM.
Rachel Perks is a queer non-binary performance maker and writer based in Naarm. Their work primarily investigates queer feminist futures through the lens of speculative fiction. They have a long-standing creative partnership with Bridget Balodis under the newly coined moniker 'Double Water Sign'. Some of their works include Moral Panic (Darebin Speakeasy 2018), Ground Control (Next Wave Festival 2016) and Angry Sexx (Melbourne Fringe 2014).
Rachel's work has been nominated for nine Green Room Awards and Rachel has been the recipient of the Melbourne Festival Discovery Award, Art Start, & the Dame Joan Sutherland Award. Rachel's script End of Life was selected for the MTC Cybec readings and shortlisted for The Queensland Premier's drama award in 2019. They write and think obsessively about queered, digitised, cyborgian climate futures; the end of the world as we know it and the beginning of the next.
Justine Youssef is an artist working across multiple disciplines including performance, video, scent and collaboration. The work is site-specific, rooted in research into moments and places that make visible social and cultural structures and attentive to her origins in South-West Asia. Youssef presented her first solo exhibition All Blessings, All Curses at 4A Centre for Contemporary Asian Art in 2018, and was the recipient of the 2019 John Fries Award. This year she is participating in the Parramatta Artist Studios studio program while working at Pari, a grassroots art space on Darug Land.
Rowan Savage (salllvage, Guy Ruin) is a Kombumerri (saltwater) man who identifies as bisexual/pansexual, working at the intersection of queer club culture and connection with Country. Rowan uses field recordings from his Country to make experimental electronic music performed with wearable motion-operated music devices, with movement influenced by vogue/ballroom dancetraditions.
Bear Baxter is a queer-non-binary-femme-tomboy-dreamboat who was sent to earth to make it gayer and more romantic. Originally from the Sunshine State, they are a playwright, performer, poet, muso, composer, and cowboy – now living and creating on the land of the Wurundjeri and Boon Wurrung peoples (Melbourne). Bear made their theatre debut for Melbourne Fringe Festival (2017) with their one-babe-cabaret Share My Blankets, which they toured to Melt Festival at the Brisbane Powerhouse (2018).
Their latest project, UR Strong Friends is an exploration of transness though the eyes of a fledgling trans lad struggling with being the 'strong friend' in a community fraught with mental illness and trauma. Bear is committed to creating space for trans and gender-diverse people in music and theatre worlds. Their work is about vulnerability and human connection. At their own risk, Bear has used their life experiences to challenge ideas around identity and coming out. These works of self-discovery invariably lead to the next project of exploration.
Demon Derriere is a queer POC who is Hard of Hearing (HoH). Through dance and music her practice explores vibration, 'otherness' and identity through a fusion of twerk, strip-tease and neo-burlesque. She explores body positivity and inclusivity to challenge stereotypes associated with dance, breaking free from the marginalisation, oppression and discrimination many ethnic women face.
Cheryn Frost is a performance and theatre maker with interest in making work that focuses on the current political, social and environmental climate of our country. Cheryn weaves her personal experience as a queer woman and the experiences of her family & culture through interdisciplinary frameworks. Cheryn is also the recipient of the Moogahlin Performing Arts First Nations Scholarship.
Solomon Frank is a queer improviser and composer whose practice includes cross-species musical collaboration and time travel. Solomon receives emails from the future including music and musical instructions written by future humans and entities to perform and carry out in the present. Some of these works have been performed by Ensemble Offspring, Sydney Symphony Orchestra Fellows, Kirkos Ensemble (Ireland), double bassist, Will Hansen, Willoughby Symphony Orchestra, E-Mex Ensemble (Germany) and his own group, Ensemble Onsombl.
These fictional conceits provide a frame for listening, a way of situating art music and making audiences aware of their own cultured ears. His improvisational practice expands upon the clarinet, replacing parts of the clarinet with other objects, homemade aluminium and plastic reeds, hoses, vacuum cleaners, watering cans and water. He performs regularly with the Splinter Orchestra, percussionist, Niki Johnson as Throat Pleats, a gendered musical power play performance that draws upon animal impulses and BDSM, and his aquatic duo with saxophonist, Charlie Sundborn, Baptism, who perform musical rituals at waterways around Sydney to mark the seasons.
Sam Huxtable is a non-binary/trans, queer artist working on Whadjuk Noongar land. Their work explores the queer body and psyche, navigating the unresolved, expansive notion of existence from a queer perspective- an existence that resides in constant flux- alongside the experience of others in their communities. Sam's performance practice incorporates sculptural, digital and installation elements to reflect form and experience so precious, and so complex.
Trans experiences often revolve around altering our bodies to reflect our identities- for expression, alignment, and often for safety. Using found and alternative objects to represent and build alternative bodies, Sam is interested in jewellery and other adornments as tools for body alternative- building a protective layer of metal around their body daily- they aim to explore this further in their practice.
Najée Tannous is an interdisciplinary artist, theatre practitioner and arts educator based in Sydney, Australia. His work spans across installation, immersive performance and technology, dance and physical theatre. He studied a Bachelor of Performance, specialising in Acting and Directing at the Australian Academy of Dramatic Arts. Following this, he graduated from the Australian Catholic University (ACU) with a Bachelor of Arts specialising in Fine Arts and Theatrical Studies, and a Bachelor of Teaching in Secondary Education.
---
Queer Nu Werk:
An outcome for the Stephen Cummins Residency artist and the Queer Workshop Intensive artists is Queer Nu Werk – an opportunity for artists to showcase their work across two nights to a broad and engaged audience. Attended by community and industry, Queer Nu Werk provides a critical opportunity for artists to share their work and begin building their creative practice within a professional presentation platform. We invite presenters from leading LGBTQIA+ orgnisations including Heaps Gay, Midsumma Festival, the Red Rattler, MELT, FEAST Festival and Next Wave Festival, with artists often receiving future presentation opportunities.
---
For more information about the Queer Artists Development Program, visit: www.performancespace.com.au for details.
Image: Daley Rangi in Lipstuck – photo by Daniel James Grant