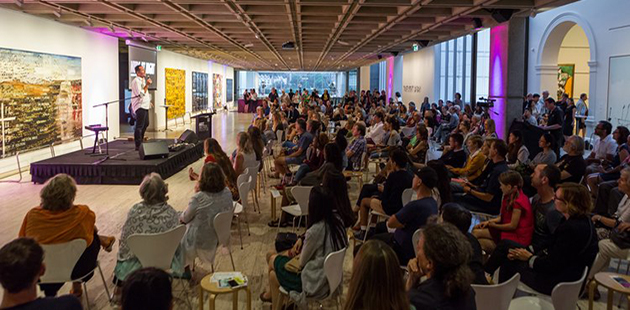 The Art Gallery of NSW is set for a fabulously queer makeover this February and March as Sydney Gay and Lesbian Mardi Gras rolls out a bumper program of events and activities to spark creative discussion and celebrate equality.
Aligning with the Art Gallery of NSW's exhibition Adman: Warhol before pop, Mardi Gras' thought-provoking Queer Thinking program is a series of events to get you talking (Saturday 25 and Sunday 26 February) while the Gallery's Art After Hours event will celebrate Warhol with some of the most outrageous and ostentatious performers in town (Wednesday 1 March: 5.00pm – 10.00pm).
Adman: Warhol before pop takes us back in time to the 1950s, a pre-pop and pre-mad men era, when a young Andy Warhol arrives to make his mark in New York. A collaboration between the Art Gallery of NSW and The Andy Warhol Museum, Pittsburgh, the exhibition is a rare opportunity to encounter the formative years of one of the world's most influential artists, providing deeper insight into the making of an icon… but hold on there's more.
Queer Thinking gives audiences the lowdown on some of the meaty LGBTQI community issues for 2017, both in Australia and abroad. Inspiring, entertaining and provocative, the annual talkfest finds a shiny new home at the Art Gallery of NSW.
Day one: Queer Thinking – Queer Warhol will use a queer lens to focus in on the theme of sexuality in Warhol's artistic output and to explore his lasting impact on queer artists worldwide. The afternoon will begin with a keynote address by Richard Meyer (Professor of Art History at Stanford University), author of What was contemporary art? and co-author, with Catherine Lord, of Art & Queer Culture. Following Richard's talk, Barry Keldoulis (CEO and Fair Director, Art Fairs Australia) will lead a panel discussion featuring four contemporary Australian artists: Deborah Kelly, Claudia Nicholson, Josh Feeney and Ramesh Mario Nithiyendran.
Day two: Queer Thinking – EqualiTea Party is the perfect setting to engage in discussion across a diverse range of queer- centric topics, as an eclectic line-up of leading guest speakers share their inspirational stories. Speakers include Benjamin Law (journalist, author of Gaysia and The Family Law), Bonnie Hart (intersex advocate, XY woman and President of the AIS Support), Teddy Cook (founding member of GRUNT [PASH.tm], team leader ACON Regional Outreach Service), Jordan Raskopoulos (transgender comedian and actress – The Axis of Awesome), Jacqueline Tomlins (writer and trainer, founding member Rainbow Families Council and mother of three) and Be Steadwell (American songstress/filmmaker, making work for queer people of colour).
Keep the ideas flowing afterwards over a refreshing afternoon tea and a sneaky glass of bubbles, served by our glamorous Sydney drag hostess, Hannah Conda.
Queer Art After Hours combines what we already love about Sydney's weekly social night out at the Gallery with a specially curated, star-studded queer line-up. Glam up with a glitzy glitter makeover in the Parlour Bizarre by Glitta Supernova, catch stunning performances by Sydney queer darlings Blake Lawrence, Matt Format and Brendan Maclean, or grab a drink at the bar and become immersed in the bizarre, character performance duo Cocoloco and Melbourne's James Welsby (YUMMY) and The Huxley's — all against the beautiful backdrop of the historic Art Gallery of NSW and the Andy Warhol exhibition.
Also as part of Queer Thinking is Politics in the Pub on Tuesday 28 February presented by Merivale in association with The Equality Campaign. The theme of the discussion panel is achieving marriage equality, from a local and international perspective. The panel will feature US Senator Ricardo Lara, former NSW Premier Kristina Keneally, A4E's Tiernan Brady and AME's Dr Shirleene Robinson.
The 2017 Sydney Gay and Lesbian Mardi Gras runs 17 February – 5 March. For more information, visit: www.mardigras.org.au for details.