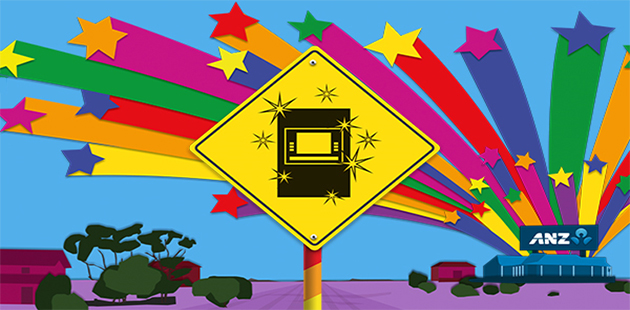 In the name of diversity, respect and inclusion ANZ will once again transform its most prominent ATMs into works of art across Sydney during the world-famous Sydney Gay and Lesbian Mardi Gras festival.
ANZ's inaugural GAYTM campaign in 2014 drew international acclaim, winning a number of awards including top honours at the Cannes Lions International Festival of Creativity.
This year, the initiative will also venture outside Sydney's borders – The only GAYTM in the village campaign, will see one Australian town awarded their very own GAYTM during Mardi Gras.
Mark Hand, Chair of ANZ's Australia Division Diversity Council said: "Building an inclusive culture at ANZ is not just important to our staff, but to our customers and the communities in which we work, so we're very proud to be able to mark our ninth year of sponsorship and the second year as Principal Partner by bringing back GAYTMs."
"It's very exciting to bring a new element to the GAYTM campaign this year by involving not just Sydney but communities across Australia. It gives Australians far and wide a chance to show their support for diversity and also to celebrate Mardi Gras."
Australians can vote for the location they would like to see host The only GAYTM in the village by visiting the GAYTM website or the ANZ Facebook page.
Once again, ANZ is donating ATM operator fees for non-ANZ cardholders from its GAYTMs during the festival to Twenty10, a not-for-profit organisation working with and supporting people of diverse genders, sexes and sexualities, their families and communities. While, ATM operator fees from 'The only GAYTM in the village' will be donated to a charity near its location.
All GAYTMs will print rainbow coloured receipts and selected ATM screens in Sydney's CBD will carry messages of support for the festival. Sydney's GAYTMs will be unveiled later this month with exciting, all-new individual designs inspired by LGBTI culture.
Further afield, ANZ New Zealand has recently revealed four GAYTMs to celebrate its partnership with Auckland's Pride Festival and Wellington's Out in the Park.
It's up to you. The ATM with the most votes wins. For more information on ANZ's Mardi Gras campaign and to vote, visit: www.anz.com/gaytm for details.
Image: courtesy of ANZ