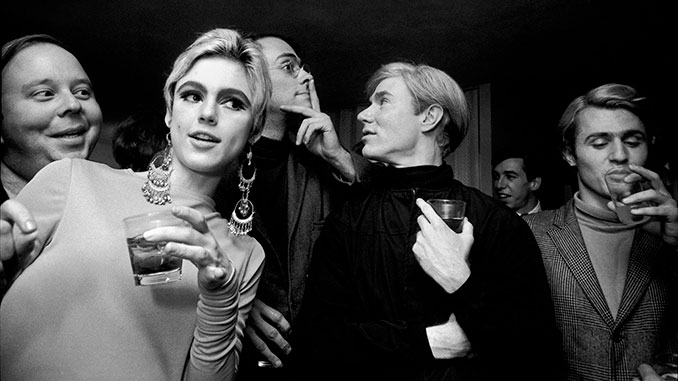 The first exhibition in Australia to explore Andy Warhol's career-long obsession with photography will open at the Art Gallery of South Australia this March, as part of the 2023 Adelaide Festival.
Exclusive to Adelaide, Andy Warhol & Photography: A Social Media will reveal an unseen side of the celebrated Pop artist through more than 250 works, spanning photographs, experimental films, screenprints and paintings.
Decades before social media, Warhol's photography was candid, collaborative and social, attuned to the power of the image to shape his public persona and self-identity.
A Social Media offers a fresh perspective on the influential artist, as well as behind-the-scenes glimpses into his own life and the lives of friends and celebrities, including Muhammad Ali, Bob Dylan, Debbie Harry, Mick Jagger, John Lennon, Liza Minnelli, Lou Reed and Elizabeth Taylor.
Headlining the 2023 Adelaide Festival's visual arts program, A Social Media brings together works from national and international collections, as well as AGSA's own extensive collection of 45 Warhol photographs which will be shown together for the first time.
"Some 35 years after his death, this exhibition attests to Andy Warhol's enduring relevance as an artist and cultural figure in an era defined by social media," said AGSA Director, Rhana Devenport ONZM.
"With cross-generational appeal, this is an exhibition of our times which begs the question, was Warhol the original influencer?'
Revealing Warhol from both in front of and behind the camera, the exhibition will also feature works by his photographic collaborators and creative contemporaries such as Brigid Berlin, Nat Finkelstein, Christopher Makos, Gerard Malanga, Robert Mapplethorpe, Duane Michals and Billy Name.
A Social Media will also include iconic Warhol paintings never-before-seen in Adelaide, including his famed Pop Art portraits of Marilyn Monroe and Elvis Presley from the 1960s, demonstrating how Warhol translated many of his photographs into paintings and screenprints.
"Photography underpinned Warhol's whole artistic practice – both as an essential part of his working method and as an end in its own right," said Julie Robinson, AGSA's Senior Curator of Prints, Drawings & Photographs, and curator of A Social Media.
"He took some 60,000 photographs in his lifetime. His candid images, which capture his own life as well as the lives of his celebrity friends, offer audiences a revealing insight into Warhol the person, taking viewers beneath the veneer of his Pop paintings and persona."
Andy Warhol's close friend and collaborator, Christopher Makos, will travel from New York City to join Andy Warhol and Photography: A Social Media curator Julie Robinson in conversation as part of the exhibition's opening weekend program.
Speaking about his decade-long friendship with Warhol and his own career as a photographer, Makos will reminisce about his time as part of Warhol's inner circle, socialising with celebrities at Studio 54 and Warhol's studio, always with a camera by his side.
Other public program highlights include an ever-changing program of live music, talks and tours as part of the Gallery's First Fridays program.
On the first Friday of every month during the exhibition, visitors will enjoy a themed program inspired by Warhol's life and art, including artist led workshops and demonstrations in screen-printing and analogue photography, and a wide range of performances celebrating contemporary independent music, theatre and fashion.
"It is thrilling to be working with AGSA to explore Andy Warhol's ground-breaking work which speaks so immediately to everybody," said Adelaide Festival Artistic Director, Ruth Mackenzie CBE.
"Today more than ever, with the popularity of social media, Warhol's idea of 15 minutes of fame is incredibly relatable and this exhibition will be a must-see during the festival season next year."
"My idea of a good picture is one of … a famous person doing something unfamous. It's about being in the right place at the wrong time." – Andy Warhol
---
Andy Warhol & Photography: A Social Media
Art Gallery of South Australia, North Terrace, Adelaide
Exhibition: 3 March – 14 May 2023
Entry fees apply
For more information, visit: www.agsa.sa.gov.au for details.
Image: Steve Schapiro, born Brooklyn, New York, United States, 1934, died Chicago, Illinois, United States 2022, Edie Sedgwick, Andy Warhol, and others at a party, 1965, New York, gelatin-silver photograph, 31.5 x 47.1 cm (image), 40.0 x 49.9 cm (sheet); Courtesy of Fahey/Klein Gallery, © estate of Steve Schapiro