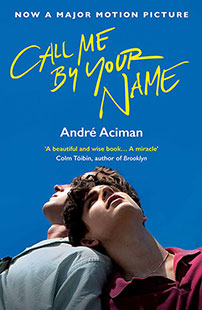 André Aciman's Call Me By Your Name tells the story of a sudden and powerful romance that blooms between seventeen-year-old Elio and his father's house guest Oliver over the course of a restless summer on the Italian Riviera.
Currents of obsession and fear, fascination and desire threaten to overwhelm the lovers, who at first feign indifference to the charge between them. What ensues is a romance of scarcely six weeks' duration, yet an experience that will mark them for a lifetime.
For what Elio and Oliver discover on the Riviera, and again during a sultry evening in Rome, is the one thing they both already fear they may never truly find again: total intimacy.
Winner of the Lambda Literary Award for Ficition, Call Me By Your Name is the basis of the Oscar-Winning Best Adapted Screenplay by James Ivory and the Major Motion Picture from Director Luca Guadagnino, Starring Armie Hammer and Timothée Chalamet.
Andre Aciman was born in Alexandria, Egypt and is an American memoirist, essayist, novelist, and scholar of seventeenth-century literature. He has also written many essays and reviews on Marcel Proust.
His work has appeared in The New Yorker, The New York Review of Books, The New York Times, The New Republic, Conde Nast Traveler, The Paris Review, Granta as well as in many volumes of The Best American Essays.
His first novel, Call Me By Your Name, was published in 2008 and Eight White Nights was published in 2011. He teaches comparative literature at the Graduate Center of the City University of New York. He lives with his family in Manhattan.
---
Call Me By Your Name is published by Allen & Unwin (Atlantic Books) and available from all leading book retailers including Dymocks.
Image: Call Me By Your Name – courtesy of Allen & Unwin
Note: Each Wednesday, the Australian Pride Network will be revisiting novels from Australia and across the world that have made an impact on the literary landscape.