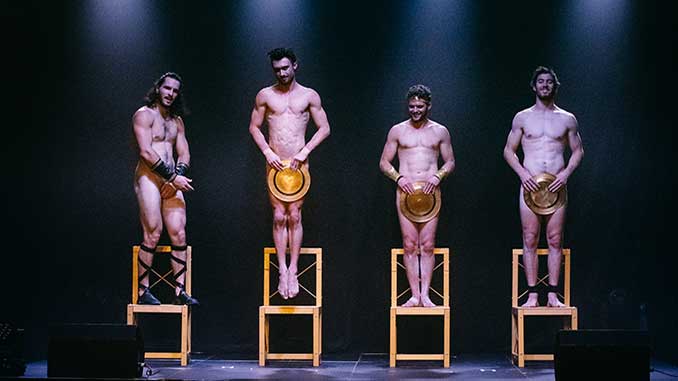 After leaving 35,000 spectators breathless across Australia, the multi-award-winning acrobatic troupe Head First Acrobats is set to shock Brisbane with its adults-only stunt-filled show, GODZ, at the 2023 Wynnum Fringe Festival.
The 18+ production will be showcased to 2 December at George Clayton Park, with Wynnum being the final Fringe of the year on the show's record-breaking 2023 run.
While strangers to shirts, the God-like talents behind the production are no strangers to the Wynnum Fringe, somersaulting away from the 2022 season with the Prestigious Pelican Award and the hearts of onlookers bayside-wide. Now, they are preparing to drop their drawers and drop jaws once more in 2023.
Head First Acrobats company director and lead performer Thomas Gorham said the show featured Cupid (God of Love), Hercules (God of Strength) and Dionysus (God of Wine) in a gravity-defying "bodyssey" of heart-racing, high-energy acrobatics and slapstick comedy.
"GODZ is an eclectic mix of muscles, aerial acrobatics, and Rihanna-worshipping nuns – it's comedy, action, and circus all merged to make one unexpected performance," said Mr Gorham.
"While the troupe might take artistic liberties with historical accuracy, audiences can expect a second-to-none experience of storytelling through movement.
"Our team pours heart and soul into every performance, blending plots, personalities, and Herculean levels of physical prowess to create a spellbinding spectacle."
He said 2023 audiences at the Wynnum Fringe Festival could expect layers of comedic twists and charm weaved throughout to create a unique take on Ancient Greek mythology, diving head-first into the more mischievous stories of Mount Olympus.
"They leave it all on the stage, and there's nothing left to wish for when the curtain closes except for a way to relive it," said Mr Gorham.
Known for their raunchy and outrageously talented on-stage antics, the multi-award-winning company has carved a niche for themselves on the global entertainment circuit.
Selling out internationally and nationally, the show has formed a cult-following and achieved numerous accolades, awarded the Best Circus Perth Fringe 2022, People's Choice Award Melbourne Fringe 2022, Critics Choice Weekly Adelaide Fringe 2022 and Adelaide Fringe 2023 Winner.
Now bringing the biggest party Mount Olympus has seen to Brisbane, the Wynnum Fringe Festival will form the tip of the five-star season before the performers head to Woodford Folk Festival. Leave all expectations (and kids) at the door as you travel back to Ancient Greece.
Fully-clothed performances more your style? Be sure to entertain the family with the energetic acrobatic circus PreHysterical – which follows a bunch of Neanderthals as they spin, somersault and survive in the natural world.
---
GODZ
Wonderland Spiegeltent, George Clayton Park, Upper Esplanade, Manly (QLD)
Season continues to 2 December 2023
Information and Bookings: www.wynnumfringe.com
Image: GODZ – courtesy of Head First Acrobats