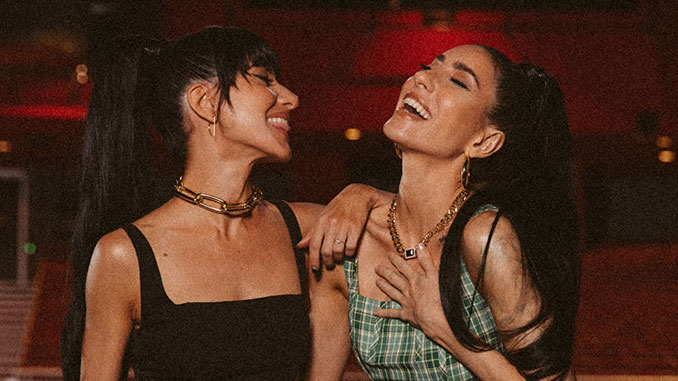 American Express, principal partner of the Sydney Gay and Lesbian Mardi Gras and Sydney WorldPride 2023, has teamed up with Brisbane pop duo, Lisa Origliasso (she/her) and Jessica Origliasso (she/her) from The Veronicas to launch a nationwide community initiative, With You &Proud. The initiative celebrates champions within the LGBTQIA+ community and their supporters who proudly back them.
Now open, Australians can nominate an individual they would like to recognise for their support, involvement or commitment to the LGBTQIA+ community to attend a special Sydney WorldPride experience including tickets to sold out events, the chance to experience exclusive meet-and-greets, and dining and entertainment vouchers.
Fifteen recipients and their nominators will be selected by a panel of representatives from community organisations, Sydney WorldPride and American Express' Pride+ Colleague Network.
"American Express is proud to launch a community initiative that pays tribute to individuals who have made a positive difference within the LGBTQIA+ community and share an important message about the power of allyship," said Corrina Davison, Managing Director, American Express Australia & New Zealand.
"As an organisation passionately committed to diversity, equity and inclusion, we recognise the magnitude of what this world-class festival represents and the extraordinary courage it can often take for a person to freely express their true selves. With You &Proud highlights that having someone by your side showing love and support can be pivotal in someone's journey," said Davison.
The Veronicas are official ambassadors of With You &Proud and staunch supporters of the LGBTQIA+ community. "For Jessie, as a member of the LGBTQIA+ community, and for both of us as passionate allies, we're honoured to bring American Express' With You &Proud initiative to life – we can't wait to celebrate this incredible community and share our personal stories of pride together," said Lisa and Jessica Origliasso.
"Having grown up deeply connected and involved with the LGBTQIA+ community from a young age and creating safe space for all at our shows for 18 years, representing Australia for WorldPride and being part of this incredible initiative will be an absolute personal and career highlight."
With You &Proud forms part of American Express' broader &Proud campaign designed to encourage widespread support of the LGBTQIA+ community during Sydney WorldPride. The campaign will celebrate the myriad of ways the LGBTQIA+ community expresses their pride and their advocates.
Joining The Veronicas to lend their support are celebrities including NBL player Isaac Humphries (he/him) and MasterChef and restaurateur Khanh Ong (he/him). Through social media, each will speak to how their support networks have been instrumental in their journeys of self-expression.
"With You &Proud is just another way that American Express continues to support the LGBTQIA+ community and Sydney WorldPride at a grassroots level, recognising individuals who have made a difference within the community and really highlighting personal stories of pride. Sydney WorldPride is thrilled to be working with American Express and The Veronicas throughout this campaign," said Kate Wickett, CEO Sydney WorldPride.
American Express' Sydney WorldPride partnership continues the company's commitment to supporting a diverse, equitable and inclusive workplace and society. With You &Proud extends American Express' My First Mardi Gras community initiative that launched in 2022 and enabled members of the LGBTQIA+ community to experience the Sydney Gay and Lesbian Mardi Gras for the first time.
To nominate someone you are proud of, complete the With You &Proud nomination form here by 11:59pm AEDT on Sunday 29 January 2023.
---
Learn more about American Express' involvement in Sydney WorldPride 2023, visit:  www.americanexpress.com.au for details.
Image: Lisa Origliasso and Jessica Origliasso (The Veronicas) – photo by Carlene Raschke