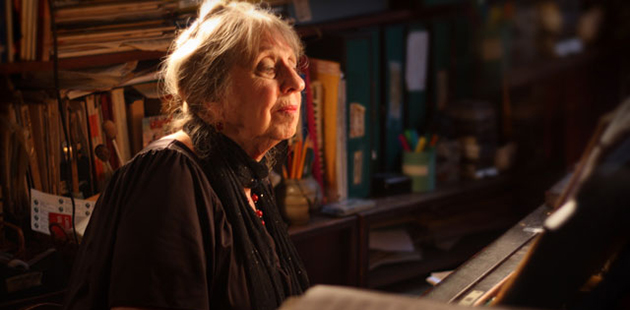 East Village concert pianist Mimi Stern-Wolfe has galvanized her New York community each year since the early 1990s to stage an annual memorial concert featuring musical works composed by friends lost to the HIV/AIDS pandemic in the 1980s and 90s.
All the Way Through Evening follows Mimi and her small ensemble – two vocalists and a cellist – as they rehearse ahead of her 20th World AIDS Day concert, the Benson AIDS Series, named after Mimi's friend Eric Benson, a gifted singer/actor/musician who died in 1988 at the age of 42.
Directed by Rohan Spong (Winter at Westbeth, T is for Teacher) this deeply engaging and affecting musical documentary celebrates the lives, outstanding talents and musical legacy of friends and artistic collaborators tragically felled in their prime.
Spong first met Stern-Wolfe whilst he was in New York to promote his first documentary T is for Teacher. "She confided in me the story of Eric Benson's loft of artists over a bowl of borscht at Vaselka's [on 9th St and 2nd Ave], and I just felt immediately that it would make an important film," said Spong"
"I vowed to come back and film Mimi's story and some of the others that were woven around the music she had been performing for some twenty odd years. That's really how All the Way Through Evening was conceived"
Rohan Spong is an Australian born independent filmmaker who trained at the School of Creative Arts at Melbourne University. His first feature documentary T is for Teacher (2009) charted the experience of four transgendered school teachers in the American Schools and was named by two Australian reviewers as amongst the best works to screen at Australian cinemas in 2009. His most recent film, Winter at Westbeth premiered at 2016 Sydney Film Festival.
In addition to his documentary work, Spong has also exhibited photographic work, has created projections for theatre, and shot and directed music videos for independent artists. He has also taught film production and theory at tertiary institutions in Melbourne and Los Angeles.
"A moving and eloquent tribute to Stern-Wolfe and her mission as well as providing illuminating insights into the lingering impact of the disease." – SBS Movies
All the Way Through Evening
ACMI Cinemas, Federation Square, Melbourne
Season: 24 November – 5 December 2017
Information and Bookings: www.acmi.net.au
Image: Mimi Stern-Wolfe in All the Way Through Evening (film still)