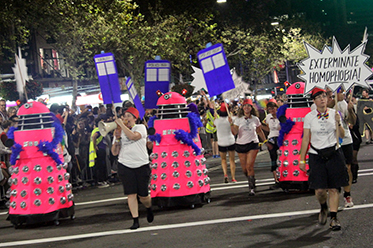 Large crowds have braved the threat of rain to view a record-breaking 144 entries make its way up Oxford and Flinders Streets for the 36th Sydney Gay and Lesbian Mardi Gras Parade.
With the roar of the Dykes on Bikes, more that 10,000 participants were featured in the two hour spectacle where sequins and glitter were the order of the day. Even the iconic rainbow crossing that was a feature of the 2013 parade also made a welcome return to this years festivities.
Marriage equality was once again a significant theme, as was Russia's anti-gay laws, including an oversized giant puppet of Russian president Vladimir Putin. The Abbott government's border protection policy was parodied in Operation Border Insecurity – with placards reading "stop the floats".
Federal Labor politician Penny Wong marched for the first time with the Rainbow Labor entry alongside MPs Tanya Plibersek and Anthony Albanese, as did the Lord Mayor of Sydney, Clover Moore and Independent Member for Sydney, Alex Greenwich.
NSW Police and other emergency services were well-received, as were the Australian Defence Force, who for the second year marched in uniform. Life Savers, rugby players, plenty of drag queens kept the large crowd entertained. Gay daleks were on hand to exterminate any hint of homophobia.
Singer Delta Goodrem and entertainer Courtney Act were featured in spectacular entries, while Baz Luhrmann provided a fitting finale with his Strictly Ballroom inspired float that featured 98 performers.
Reflecting on the Parade, Mardi Gras CEO Michael Rolik said: "The Parade was one of the biggest and best we've ever seen in Sydney since the 30th anniversary in 2008! From the show-stopping performance by Delta Goodrem, and Magda Szubanski marching with Twenty10, to Baz Luhrmann's epic Strictly Ballroom finale, the night did not disappoint!"
"It was also truly special to have Australia's oldest and largest gay and lesbian social group the Pollys as our Chief of Parade. I know it meant a lot to many people to have them represented in their 50th year!"
"And having the first Trans and Intersex float was something very important to all of us here at Mardi Gras. We know it won't be the last, and this is a group we will continue to work with in the years to come, alongside all in the LBGTQI community."
Following the Parade, more than 13,000 people danced the night away at the Entertainment Quarter in Moore Park with performances by Tina Arena, Samantha Jade and Mardi Gras Ambassador, Courtney Act.
For more information, visit: www.mardigras.org.au for details.
Image: by Matt Akersten – courtesy of www.samesame.com.au