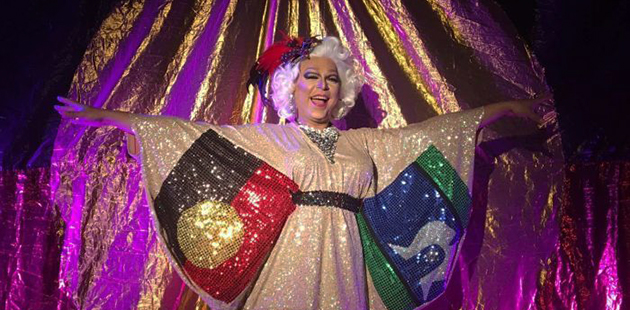 Continuing its reputation for blending tradition with discovery, Woodford Folk Festival once again brings together music, art, circus, cabaret, yoga, dance, comedy and ceremony, in its 2018/19 festival programme.
The largest gathering of artists and performers of its kind in Australia, Woodford Folk Festival showcases more than 2000 artists, musicians and presenters in over 400 acts, over 25 venues to an estimated aggregate audience of 125,000 people.
The 500-acre festival site known as Woodfordia will play host to Kimbra, Julia Jacklin, Electric Fields, Jen Cloher, Stella Donnelly, Alex the Astronaut and Remi. They join festival favourites The Cat Empire, The Waifs, Nattali Rize, Xavier Rudd, Dr Karl and Costa Georgiadis.
Bringing together performers from around the globe, alongside a huge number of homegrown talents, this year's international visitors include Canadian consorts Irish Mythen, The Fretless, Old Man Luedecke, Les Poules a Colin and podcast Grownups Read Things They Wrote as Kids.
From just across the ditch, a special brand of electric blue witch-hop comes courtesy of Estére, and one of New Zealand's most established songwriting stars, Mel Parsons, brings alive her new album Glass Heart with her dynamic live show and full band.
Travelling from all corners of the world will also be Rura (SCOT), Lindsay Lou (USA), River Matthew (ENG), Sun Collective (IRE), Fru Skagerrak (NOR/SWE/DEN), Ross Daly Quarter (USA/GRE), Tim McMillan & Rachel Snow (GER/AUS) and a plethora of street theatre.
A festival that loves to provide unique offerings, dynamic duo Hat Fitz & Cara host a Blues Breakfast BBQeach morning – bringing together laughter, stories and music with a revolving door of surprise guests. One of those not-so-surprise guests is Jo Jo Smith. Regarded by top musicians and her devoted audience as one of Australia's greatest soul singers, she celebrates 50 years in the business with two special shows across the festival and an intimate chat at the Blues Breakfast BBQ.
The blues continues with the return of Sweet Felicia and the Honeytones, Tullara and multi-award winner Leanne Tennant joining the lineup alongside Chris Tamwoy, Montgomery Brothers, Vince Jones and the Astral Orchestra, Mick Thomas, Glenn Cardier and Christian Marsh.
Flicking through the 128 page programme booklet feels like diving into a different world, full of artists like Dan Sultan, The Maes, Emily Wurramara, The Teskey Brothers, Wanderers and Stiff Gins. Artists such as The Little Stevies and Teeny Tiny Stevies take to the stage in the main programme and Children's Festival.
The diversity in the lineup reflects the wide variety of patrons that attend Woodford Folk Festival each year. And yet, despite this variation in demographics, year after year studies at the festival show that patrons feel a strong sense of belonging in the Woodfordia community. It is a place where everyone is welcomed, and connection is key.
The theme We're All Connected weaves throughout the festival, with the return of the Spooky Men's Chorale marking its grand finale. Multiple guest appearances and singalongs are earmarked in special sessions from The Maes, Rob Longstaff and the Spooky Men's Chorale. Two of Australia's finest middle men, songwriters and voices, Paul McDermott (Doug Anthony All Stars) and Steven Gates (Tripod) will lock harmonies and minds at the festival.
Woodford is a festival that champions more than just music, this year featuring two outstanding stage shows. Bukal is the imagining of social justice warrior, traditional owner, elder, mother and internationally recognised academic Henrietta Marrie's extraordinary life, and The Spirit of Churaki tells the heroic, largely unknown story of an Aboriginal man heralded as the Gold Coast's first surf lifesaver. Both are outstanding productions, that will capture the hearts of festival-goers.
Sampling the strange and strange-at-heart, a myriad of circus and cabaret acts join the programme this year, including Spain's Las Cossas Nostra – who mix physical theatre with comedy, clowning and circus. Deja Voodoo is back with The Space Cowboy, Pain-Proof Pin Ups, Boneless Barbies and Daredevil Divas!
With collaboration and community at the heart of the festival's success, there's always an opportunity for you to get involved too – play Bling Bingo with Miss Ellaneous for an hilarious night of games, comedy, legs 11 and live acts; join the Festival Choir or Festival Orchestra or take part in almost 200 workshop in visual arts, circus, spoken word, dance or music.
The 33rd Woodford Folk Festival runs 27 December 2018 – 1 January 2019. For more information, and complete program, visit: www.woodfordfolkfestival.com for details.
Image: Miss Ellaneous – courtesy of Woodford Folk Festival