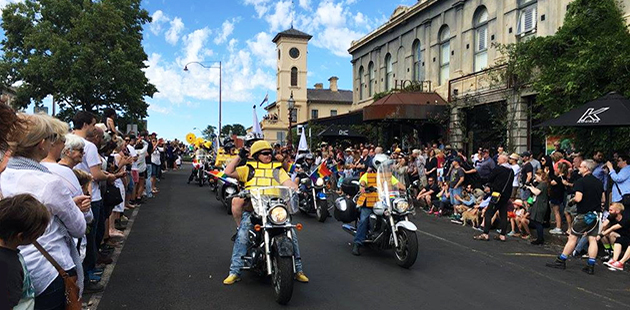 Australia's premier celebration of Queer Country Pride, returns to regional Victoria's LGBTI mecca Daylesford – inviting visitors to dance, prance, chill and shake a tail feather with fabulous festivity throughout this March long-weekend.
Now in its 22nd year, ChillOut Festival has a long history of being out and proud and continues to present a program as diverse as the queer community and its extended family of friends and supporters themselves.
Featuring music, theatre, circus, dance and pool parties, sporty pursuits, a children's program and a stellar line up of performers including Killer Queen – paying homage to Britain's regal rock quartet QUEEN, Beccy Cole & The Sisters of Twang, The Potbelleez, Yana Alana, Dandyman and Wendy Stapleton.
Internationally acclaimed circus, theatre and cabaret performances take up residence in the Festival's newest venue – The World Famous Beagle Tent. Bent, queer and freaky fun works including the joyful riotous call to action adult theatre, circus and cabaret pervaded work Give A F*Ck Cabaret; the no holes barred circus, BENT; the wickedly funny, often filthy cabaret, Baby Bi Bi Bi and Lori Bell and Bobby Macumber's comedic antics in The Dykeside are on show.   
Family friendly shenanigans from Dandyman and Her Majesty's Secret Circus as well as the poignant adult works, My Other Closet The Cabaret Network– a true story of surviving domestic violence in a same sex relationship and Become The One – the story of an AFL player who forms a relationship with a young queer man, turning his personal life upside down also take to The World Famous Beagle Tent stage.
Daylesford Town Hall is set to be overrun with feathers, frolic and fun when it throws open its doors for the official festival opening event, Shake Your Tail Feather – an all night disco featuring Immaculate Madonna.  The Smashing Bumpkins occupy the Town Hall for an afternoon of toe tappin', foot stompin' fun in Kids Bush Dance and then take it to a whole new level for adults late that evening.
The venue also hosts favourite queer DJs Argonaut, Hayley Maree, Jason Conti & Du Jour – who will be joining performance artists Polly Filla and Art Simone in Poof Doof presents Bush Doof!  
Under new management, Palais Hepburn is a hotspot of out and out fabulousness with Yana Alana & The Homo Sapiens, La Cabarisque hosted by Dolly Diamond, Palais Salon & Bluehouse Show, Thick N Juicy Dance Party Recovery Lunch serving up Musclemarys for Bloody Marys and Bloody Great Breakfast Boards on the final day of the Festival.
It may well be the final hurrah for the Old Hepburn Hotel as a Chillout Festival venue, having recently been sold, but they are going out with some bangers including Flanny Friday, a boot scootin', toe tappin', can't help dancin' night of country rock covers that includes line dancing lessons.
After 14 years, the Sheilas of the 70s (Monique Brumby, Kerri Simpson, Maryanne Window) Michelle Parsons, The Tuckshop Ladies (Rosie Burgess & Sam Lohs), The Party Girls, Casey Freeman & Rhiannon Simpson perform Cream – The Final Show. Lite Nite Dance Party featuring Ladyhood, is a sound and light extravaganza featuring the sweet sounds of Ladyhood and psychotronic visuals provided by a VJ artist.
On Sunday 10 March, the Festival reaches peak frivolity when the much loved Chillout Parade takes over the town for a magical hour long carnival parade immediately followed by the highlight event Chillout Carnival – a day loaded with music, a youth stage programmed by FReeZA, the artistry of Women's Circus, a dog show MC'd by Festival Ambassador Farmer Dave, workshops, stalls, country games and even a bucking bronco.
The Carnival's massive musical line up includes Killer Queen, The Potbelleez, Yana Alana, Dolly Diamond as well as fellow Festival Ambassador Beccy Cole with her Sisters Of Twang, The Hussy Hicks, Leather Lungs and Rhiannon amongst others.
Other delights on the ChillOut 2019 bumper 50+ event program include the Peacock Pool Party, Wendy Stapleton's Swinging Sixties Show, a roller derby, a golf Ambrose competition, ChillOut Morning Bush Walk along with food, wine and even more music.
The 2019 ChillOut Festival continues to Monday 11 March. For more information and full program, visit: www.chilloutfestival.com.au for details.
Image: ChillOut Festival Parade – photo by Rohan Shearn