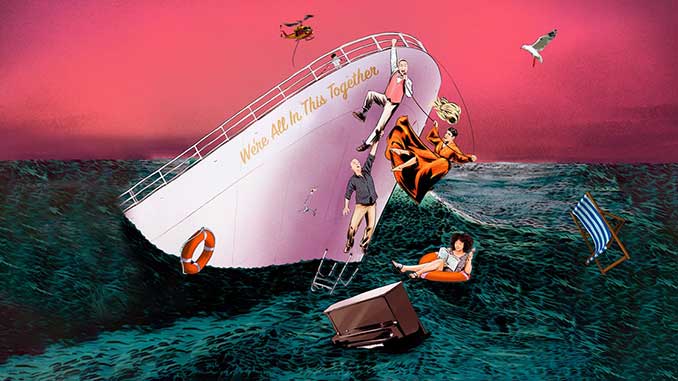 All hands on deck! Because as you surely know by now: we're all in this together. The S.S. Metaphor sets sail on the Malthouse Outdoor Stage this December.
Created specifically for the Malthouse Outdoor Stage, S.S. Metaphor is directed by Sarah Giles, where writer, performer and limbo champion, Ash Flanders, will bring fellow cast members, Zenya Carmellotti, Will Conyers and Natalie Gamsu, down to his level in a medley of maritime mayhem aboard a luxury cruise liner.
A glittering ode to freedom, adventure and endless possibility, this ship might be stuck at sea, but the top tier passengers will be none the wiser about troubles back home… or even below deck.
"Sarah Giles and I are so excited to take audiences aboard our ship of dreams, the world's first disaster-movieallegorical- farce-cabaret, or Dismalfaret," said Flanders. "S.S. Metaphor is the all-singing, no-dancing result of a restless imagination and the world's longest lockdown, sailing clumsily between…"
"The Poseidon Adventure and Snowpiercer with a soundtrack that proves leaving your house might still be dangerous. If you think you've seen disasters at The Malthouse before, think again," said Flanders.
His best advice: just slip on a kaftan or linen slack, sip your mai tai and kick up your heels as the world-class cabaret duo Cruise Control croon your cares away.
Ash Flanders is a multi award winning playwright, screenwriter and performer. His solo work includes End Of, Playing to Win, Ash Flanders is Nothing, Special Victim, Meme Girls and Negative Energy Inc. all directed with longtime collaborator Stephen Nicolazzo.
He and Declan Greene create theatre under the name Sisters Grimm with Ash also performing in Little Mercy (STC), The Sovereign Wife (MTC Neon), Calpurnia Descending (Malthouse Theatre/ STC), Lilith: The Jungle Girl (MTC) and an adaptation of Verdi's La Traviata (Belvoir).
As an actor he has been seen in the solo show Buyer & Cellar (MTC), Blackie Blackie Brown (Malthouse/STC), Adena Jacobs' Hedda (Belvoir), The Temple (Malthouse/Pan Pan Theatre), The Golden Dragon (MTC) and Psycho Beach Party (Little Ones Theatre).
Sarah Giles is an award-winning opera and theatre director whose credits include: Blaque Showgirls (Malthouse Theatre), The Truth, Straight White Men (Melbourne Theatre Company), No Pay? No Way!, Accidental Death of an Anarchist, Perplex, Mrs Warren's Profession, Marriage Blanc, Money Shots, Ruby Moon (Sydney Theatre Company), The Popular Mechanicals (State Theatre of South Australia), Lorelei (Victorian Opera/Opera Queensland), O Mensch, Pas à Pas, and Into the Little Hill (Sydney Chamber Opera/Sydney Festival).
Director & Dramaturg: Sarah Giles | Featuring: Zenya Carmellotti, Will Conyers, Ash Flanders, Natalie Gamsu | Musical Direction: Will Conyers | Set & Costume Design: Tyler Ray-Hawkins | Original Composition: Jude Perl | Sound Design: Jed Palmer | Lighting Design: Katie Sfetkidis | Stage Manager: Lyndie Li Wan Po | Dramaturg: Matthew Lutton | Writer: Ash Flanders
---
S.S. Metaphor
Malthouse Outdoor Stage, Sturt Street, Southbank
Season: 9 – 19 December 2021 (previews: 5 – 8 December)
Information and Bookings: www.malthousetheatre.com.au
Image: S.S. Metaphor – artwork by James Fosdike