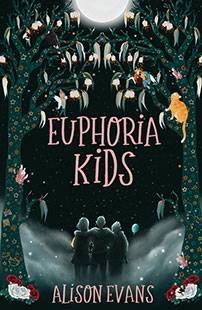 A unique, gender queer modern fairy tale for young adult readers, Euphoria Kids is the latest groundbreaking novel from award-winning author, Alison Evans.
Ever since the witch cursed Babs, she turns invisible sometimes. She has her mum and her dog, but teachers and classmates barely notice her. Then, one day, Iris can see her. And Iris likes what they see. Babs is made of fire.
Iris grew from a seed in the ground. They have friends, but not human ones. Not until they meet Babs. The two of them have a lot in common: they speak to dryads and faeries, and they're connected to the magic that's all around them.
There's a new boy at school, a boy who's like them and who hasn't yet found his real name. Soon the three of them are hanging out and trying spellwork together.
Magic can be dangerous, though. Witches and fae can be cruel. Something is happening in the other realm, and despite being warned to stay away, the three friends have to figure out how to deal with it on their own terms.
Anyone who loves the work of Francesca Lia Block and delights in Studio Ghibli films will be entranced by this gorgeous and gentle young adult novel about three queer friends who come into their power.
Alison Evans is a non-binary author from Melbourne. Alison's first YA book, Ida, was published in 2017 (Echo Publishing) and established a firm fan base of teens and adults who loved seeing queer and gender-diverse characters in a fun genre novel. Ida won the People's Choice Award in the Victorian Premier's Awards 2018, was shortlisted in the 2017 Aurealis Awards, and longlisted for a 2018 Gold Inky Award.
Their second YA book, Highway Bodies, was published by Echo in 2019, and has just been Highly Commended by judges for the Victorian Premier's Literary Award for Writing for Young Adults, 2019. Their work has been published in various Australian and international magazines, lit journals and zines. Alison is the co-editor of the zine Concrete Queers, which they started with Katherine Back in 2015. So far, the zine has featured over sixty queer artists.
Alison is a regular speaker at festivals, schools and events, on writing, gender and sexuality, and has been an artist at Melbourne Writers Festival, Emerging Writers Festival, National Young Writers Festival, Reading Matters, and Feminist Writers Festival, and has done many library and bookshop events.
---
Euphoria Kids is published by Echo Publishing and now available from all leading book retailers including Booktopia.
Image: Euphoria Kids  – courtesy of Echo Publishing